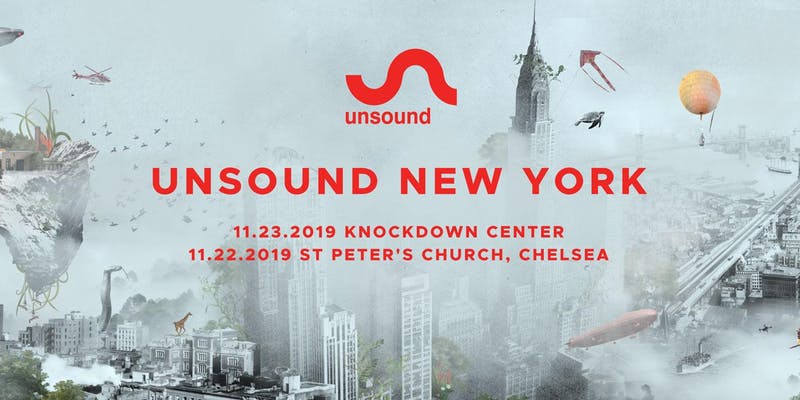 On November 23rd, Unsound takes over Knockdown with a lineup bringing together artists from nine different countries, moving from ambient to noise and club music. Canadian TIM HECKER will perform with the KONOYO ENSEMBLE, blurring Hecker's trademark sound with traditional Japanese musicians performing gagaku, the oldest classical music in Japan. Fellow Kranky labelmate Liz Harris, a.k.a. Grouper, will present the U.S. premiere of NIVHEK, a minimalist project that is harsh and dreamlike, resulting partially from an Unsound residency in Murmansk, deep in the Russian arctic. Spearheading a new movement of modular synth music, Berlin-based Italian CATERINA BARBIERI will perform her first New York show, playing with tempo, patterns and arpeggiated sound to take listeners on a mind-altering journey.

THE BUG, a.k.a. Kevin Martin, is known for his solo work as well as collaborations with Justin Broadrick under the names Techno Animal and Zonal. He has long been closely associated with Unsound, so it makes sense that his first stateside appearance in four years is at Unsound New York, joined by MISS RED, whose fiery delivery and charisma are sure to make an impression. Also moving the night into rhythmic, heavy sound is AMNESIA SCANNER. Likewise connected to Unsound since first appearing on the scene, they will present their massive A/V show, in which sounds are stretched and crushed into a hybrid of pop and club music that makes the future tangible.
Opening the room is SOFT POWER, where the music of PC Music affiliate FELICITA collides with traditional folk dance forms from SLASK SONG AND DANCE ENSEMBLE, one of Poland's largest folk ensembles, established in 1953. Together they create a spectacular show combining vibrant dance, mournful piano melodies, ambient noise and wild synthetic pop – "a stirring affirmation of how cultures can coexist while retaining their own voices" (The Guardian). SOFT POWER was commissioned by Unsound and the Adam Mickiewicz Institute.
A second room at Knockdown is presented with longtime Unsound New York partner THE BUNKER as well as QUO VADIS. The lineup includes a series of special live collaborations from local artists, moving throughout the evening from noise to techno experiments: FURTHER REDUCTIONS (ROSE E. KROSS & SHAWN O'SULLIVAN), ABBY ECHIVERRI & LEISURE MUFFIN, rrao & CLAY WILSON, JANUARY HUNT & OCTONOMY, VIA APP & BOOKWORMS PRESENTS: ASTHYNA and SHREDDED NERVE & JACKSON-PRATT. A performance from LA-based duo PEDESTRIAN DEPOSIT rounds out this program.
Knockdown Center
52-19 Flushing Ave
Queens, NY 11378