Black History Month Celebration. Mass Featured Wilton Cardinal Gregory, the First Black Cardinal in America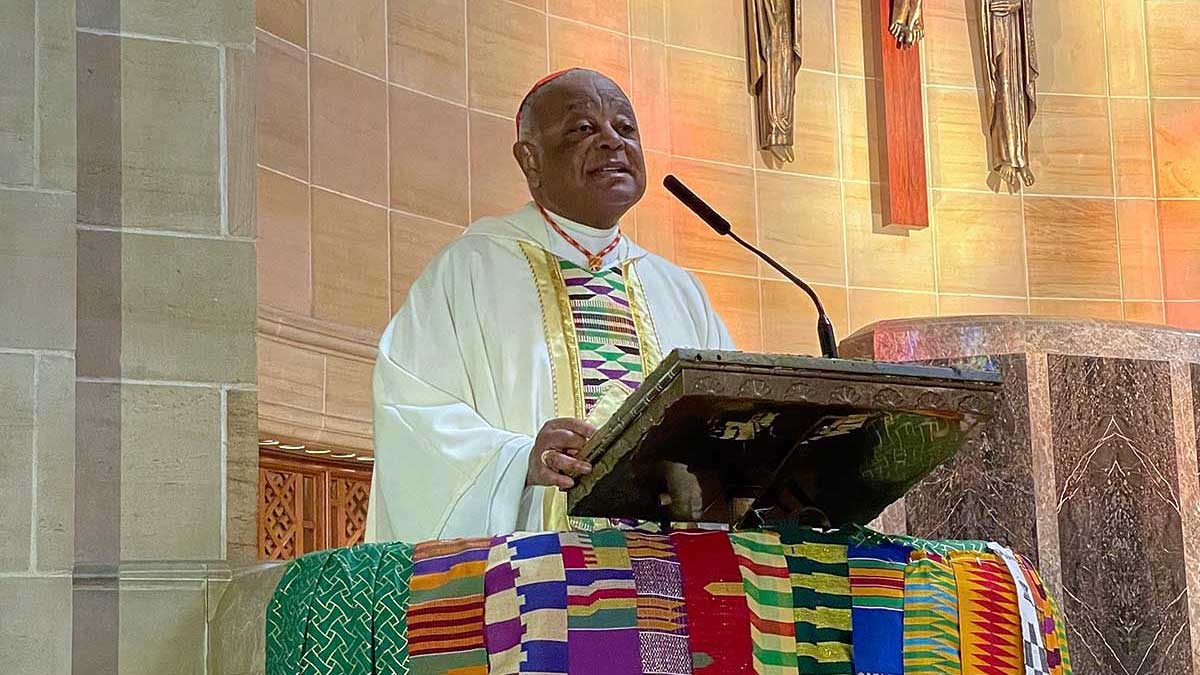 Photos: Courtesy of DeSales Media
The Most Reverend Robert J. Brennan, Bishop of Brooklyn and the Most Reverend John O. Barres, Bishop of Rockville Centre, welcomed His Eminence, Wilton Cardinal Gregory, Archbishop of Washington, D.C., to a Black History Month Celebration and Mass of Thanksgiving on Sunday, February 20, 2022, at the Immaculate Conception Monastery Church located at 86-45 Edgerton Boulevard in the Jamaica Estates section of Queens.
Wilton Cardinal Gregory is the first African-American bishop to be elevated to the College of Cardinals within the Catholic Church. Cardinal Gregory was the principal celebrant and homilist at the Mass. Bishop Brennan, Bishop Barres and Auxiliary Bishops and priests of both the Dioceses of Brooklyn and Rockville Centre, concelebrated the Mass.
"Black History Month is an opportunity for our entire country to recognize the blessings that People of Color have offered and continue to impart to these United States. We are a gift to this country," Cardinal Gregory preached during his homily.
"Today we celebrate in prayer the contributions of Black People to our homeland. However, this is also a moment for all Americans from every culture and race to appreciate the gifts that Black People have offered to our nation," Cardinal Gregory continued. "It is also a time for nation-building and for strengthening the bonds that tie us together as one people. Americans everywhere should rejoice this African-American Heritage Month in a legacy of unity that promises a better tomorrow for everyone who claims this land as their home. It is an occasion for us not only to thank God for the gifts of people of color but to thank God for the possibility that we have become one people, Amen."
Black History Month cultural festivities, sponsored by The Brooklyn Vicariate for Black Catholic Concerns and The Office of Multicultural Diversity for the Diocese of Rockville Centre, took place before the Mass of Thanksgiving.
Wilton Cardinal Gregory was appointed by Pope Francis as the seventh Archbishop of the Archdiocese of Washington on April 4, 2019, and was installed on May 21, 2019. Cardinal Gregory is the Chancellor of The Catholic University of America, the Chairman of the Board of Trustees for The Basilica of the National Shrine of the Immaculate Conception, and previously has served as the Chairman of the United States Catholic Conference of Bishops.