Modern Jazz Music Concert by Alicia Jonas and Art Exhibit in New York City
November 16, 2019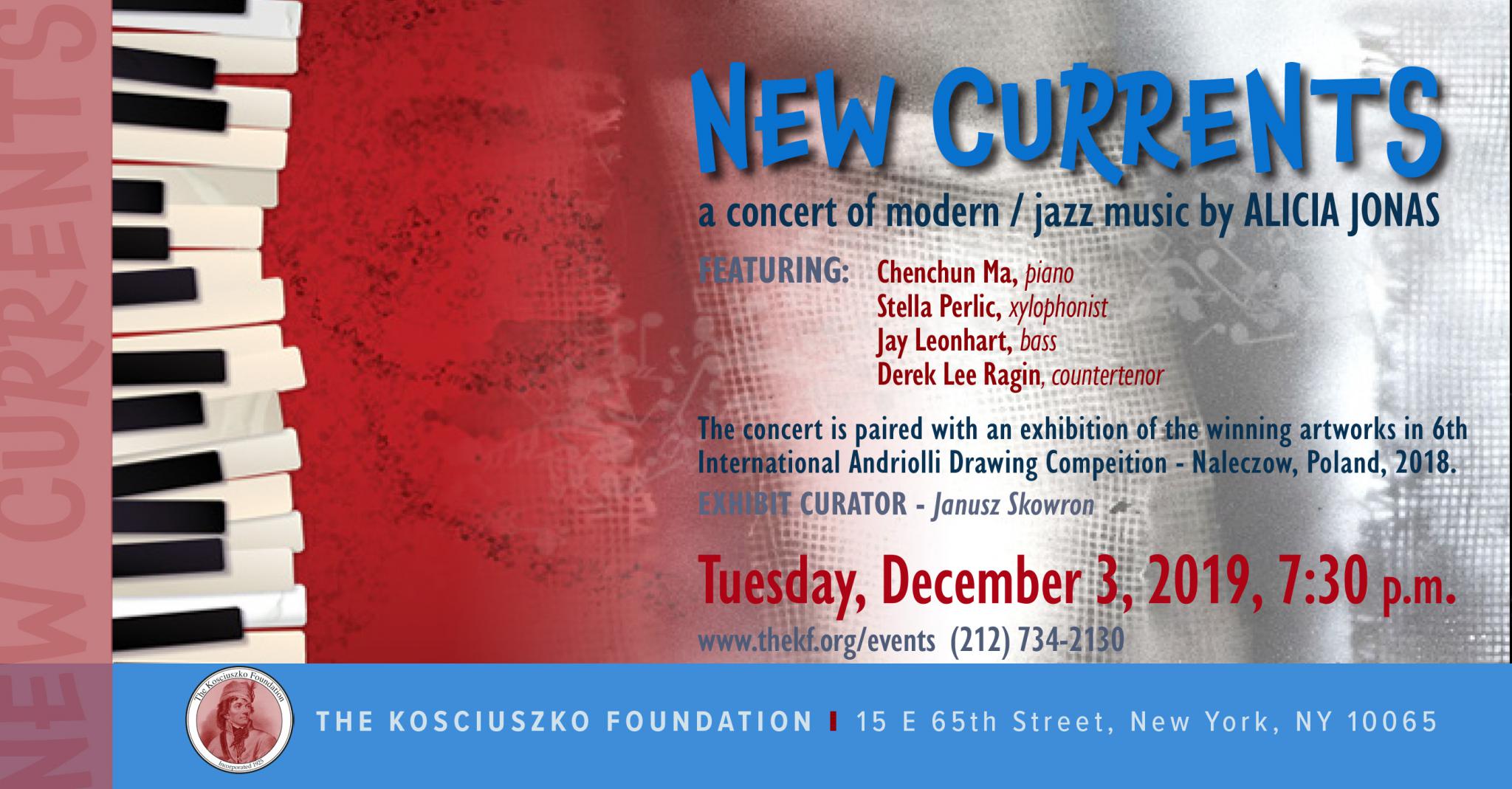 New Currents features new compositions of modern music with jazz by Alicia Jonas, established music educator, pianist and composer, performed by Chenchun Ma, piano, Stella Perlic, xylophonist and Jan Leonhart, bass. The concert will also include three songs composed to the poems by Polish poet Jan Lechon performed by countertenor Derek Lee Ragin. The recital is paired with the opening exhibition of the winning artworks in the 6th International Andrioli Drawing Competition – Naleczow, Poland, 2018, curated by Janusz Skowron. Wine reception will be held.
 
Tuesday, December 3, 2019, 7:30 p.m.
The Kosciuszko Foundation
15 E 65th Street, New York, NY 10065  

Admission: $10 - KF Members, Students & Seniors / $15 - Regular admission
Artists featured in the exhibit:

Izabela Kita, Zbigniew Liwak, Z. Strzyzynski, A. Weclawski, Edyta Pilat, Zbigniew Wozniak, Jaroslaw Struk, Lubomir Tomaszewski, Tomasz Wiktor, Mateusz Otreba, Anna Gutek, A. Panek, Agnieszka Zawadzka, Pawel Warchol, Andrzej Markiewicz, Amadeusz Popek, Janusz Skowron.

Founded in 1925, the Kosciuszko Foundation promotes closer ties between Poland and the United States through educational, scientific and cultural exchanges. It awards up to $1 million annually in fellowships and grants to graduate students, scholars, scientists, professionals, and artists, and promotes Polish culture in America. The Foundation has awarded scholarships and provided a forum to Poles who have changed history.