The Kosciuszko Foundation in New York: Members Appreciation Month
November 01, 2019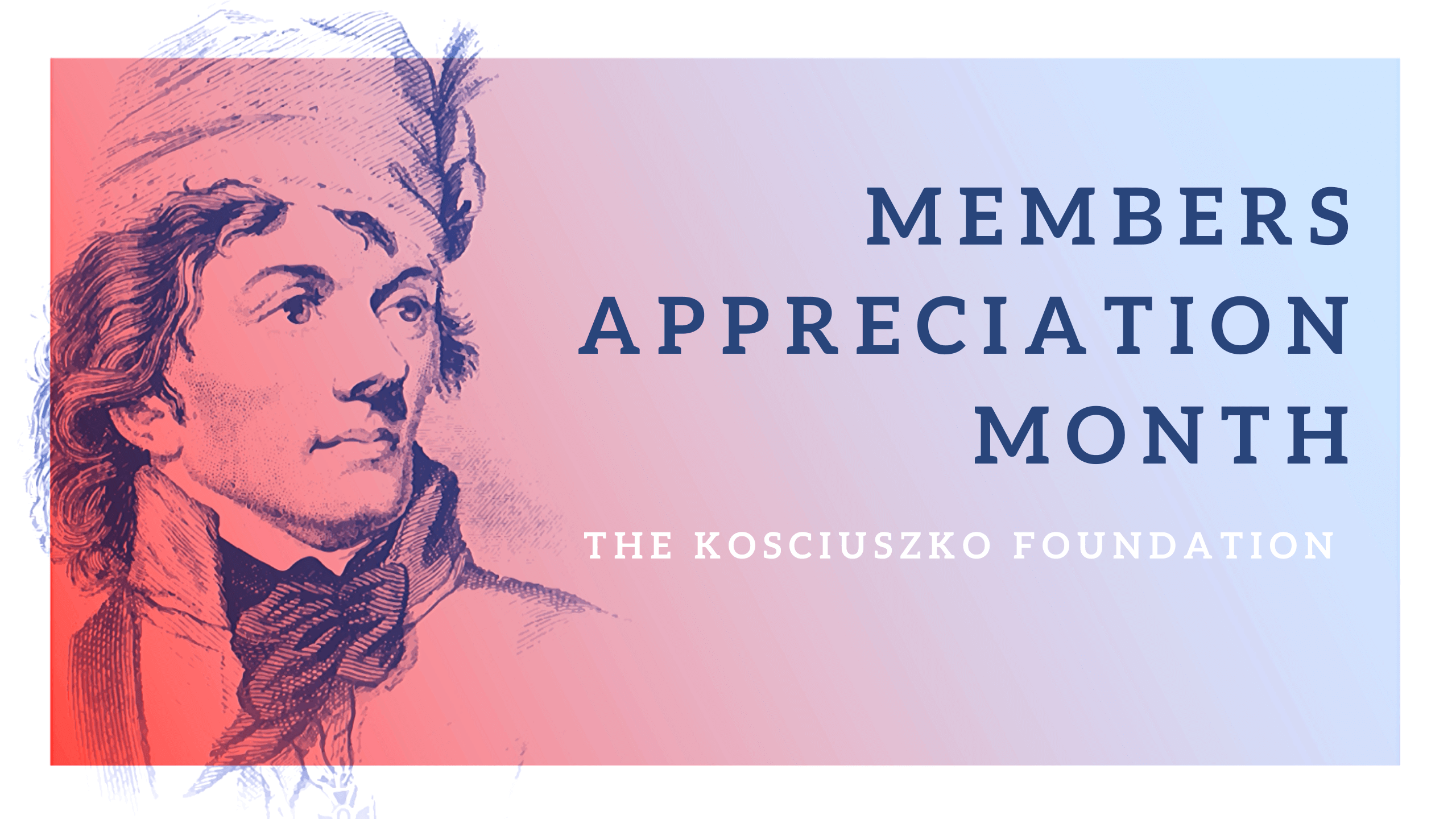 November is the best month to be a KF Member!
    This year, for Member Appreciation Month, the Kosciuszko Foundation is dedicating the entire month of November to express gratitude to our wonderful Community. To emphasize this we have prepered  our calendar with a multitude of events this month—all free or discounted for KF Members.

Special MEMBER Appreciation Month Raffle Awards!

Each purchase of a membership will have a chance to win an invitation for two to the 85th Kosciuszko Foundation Annual Fundraising Dinner and Ball at the Plaza Hotel (valued at $1,000).

 Additionally, a signed copy of The Best of Rafal Olbinski will be awarded to three lucky members.

Furthermore, any individual who purchases a membership within the month of November will receive the DVD:

Kosciuszko A Man Before His Time - The True Story Of The American Revolutionary War Hero And Champion Of Civil Rights As a Gift.

Limited quantities available.

Everyone who purchases a membership of $100 and above between November 1st, 2019 and November 30th, 2019 will qualify to participate in our SPECIAL NOVEMBER RAFFLE!

Grand Prize will be awarded on December 1st, 2019.


    Join the Kosciuszko Foundation as a Member today to enjoy all of the exclusive Member Appreciation Month benefits:

    - discounted Gift of Membership for students ONLY $30

    - one membership card and unlimited admission to the KF Art Gallery and the Washington DC Gallery

    - free or discounted admission to KF New York and Washington DC events

    - the KF Art Gallery tour exclusively for Chairman's Club Members

    - VIP Events for Friend's Circle Members and above

    - a discount offer on space rental for private events
Founded in 1925, the Kosciuszko Foundation promotes closer ties between Poland and the United States through educational, scientific and cultural exchanges. It awards up to $1 million annually in fellowships and grants to graduate students, scholars, scientists, professionals, and artists, and promotes Polish culture in America. The Foundation has awarded scholarships and provided a forum to Poles who have changed history.