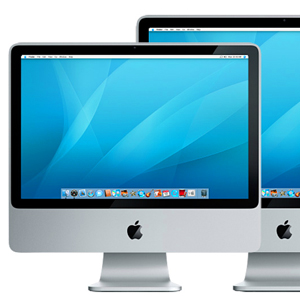 Apple Inc. updated its iMac computers Tuesday with a slimmer design, faster chips and glossy screens, hoping to further propel sales that already outpace the rest of the PC industry.
The all-in-one desktop computers now have aluminum casings, replacing the white plastic facade that has defined the computer lineup for years. The new iMacs will come in only 20-inch and 24-inch versions.
With starting prices at $1,199 and $1,799, respectively, the computers are also $200 to $300 cheaper than their predecessors.
Analysts have been anticipating an iMac revamp for some time from the trendsetting company. Apple last introduced a new iMac in September 2006 when it debuted the large 24-inch model.
The success of the iPod, Apple's retail stores and the company's switch to Intel-based computer chips have all helped boost the Macintosh maker's computer sales and profits to record levels. In recent quarters, Apple's sales have been growing three times faster than the rest of the PC industry.
"The iMac has been very successful for us and we want to make it even better," Apple Chief Executive Steve Jobs said in announcing the new products.
In the company's fiscal third quarter that ended in June, Apple shipped a record 1.76 million Macs, up 33 percent from the year-ago period, accounting for $2.5 billion, or more than 60 percent of the quarter's revenues.
More than a million of those Mac units were laptops _ which also represents the fastest-growing segment across the PC industry _ but most of the remainder were iMac sales, Apple officials said.
"Notebooks are where there's growth, but I think desktops still have a long life ahead," said Phil Schiller, Apple's executive vice president of worldwide marketing.
Though Apple will no longer offer its older 17-inch iMac model to the general retail market, Apple's chief operating officer, Tim Cook, said the company will continue to sell the computer to educational institutions "for a little while longer."
Apple also upgraded its so-called iLife suite of applications, with a host of new features for its photo management and video creation programs. It also updated its iWork productivity software to include a new spreadsheet program called Numbers _ filling a void and perhaps providing some of its customers one less reason to have to buy from rival Microsoft Corp.
Many Mac users often buy Microsoft's Office for Mac software to be able to use Microsoft's Excel spreadsheet program, said Michael Gartenberg, a JupiterResearch analyst.
"They've raised the bar again in terms of functionality," Gartenberg said of Apple.
Shares of Apple fell 22 cents, or less than 1 percent, to $135.03. In extended trading, shares gained 69 cents.
Last update: 08/08/2007
(© 2005 Associated Press. All rights reserved. This material may not be published, broadcast, rewritten, or redistributed.)