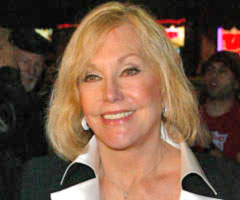 Hollywood veteran actress Kim Novak has been diagnosed with breast cancer, but doctors says her prospects for recovery are good, her manager was quoted as saying.
The 77-year-old actress, who starred in Alfred Hitchcock's 1958 classic "Vertigo" with Jimmy Stewart, maintains her health by working out three times a week and horse-riding, Sue Cameron said.
The cancer "was caught early by a routine yearly mammogram and (she) is undergoing treatment," Cameron told the Hollywood Reporter, the industry daily, cited on its online edition on Tuesday.
"All her doctors say she is in fantastic physical shape and should recover very well."
Novak, who lives with her husband raising llamas in Oregon, made a rare appearance in Hollywood in July to launch a DVD collection of her work, the Los Angeles Times reported.
© Copyright AFP Agence France-Presse GmbH - All rights reserved. This material may not be published, broadcast, rewritten or distributed. All reproduction or redistribution is expressly forbidden without the prior written agreement of AFP.