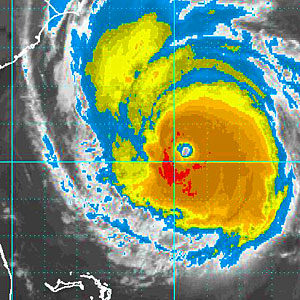 Hurricane Earl quickly closed in on a large part of the US east coast on Thursday, as tens of thousands of people fled North Carolina's barrier islands to avoid dangerous winds and surf.
The strongest Atlantic storm of 2010 was on course to lash the coast of North Carolina and then move north, wreaking havoc on the end-of-summer Labor Day holiday weekend that usually draws millions to the beaches.
At 5:00 am (0900 GMT), Earl's top winds had increased to their highest level yet -- 145 miles (230 kilometers) -- as the powerful category four storm sped toward the eastern seaboard, the National Hurricane Center (NHC) said.
The eye of the storm was 410 miles (660 km) south of Cape Hatteras in the Outer Banks -- a narrow band of North Carolina barrier islands.
Hurricane force winds were expected to reach the state's coast later by late Thursday and a "dangerous" storm surge was due to raise water levels by up to three to five feet (0.9 to 1.5 meters) above ground level in the hurricane warning area, the NHC said.
"The surge will be accompanied by large and destructive waves," it warned, noting that large swells associated with the storm "will likely cause dangerous surf conditions and rip currents" through the weekend.
In a sign the hurricane season was heating up, the fourth storm in the past 11 days, Tropical Storm Gaston, formed in the Atlantic.
Gaston had winds of 40 miles (65 km) per hour and was centered 965 miles (1550 km) west of the Cape Verde Islands.
But forecasters warned the storm's track could well put it in the path of Haiti, a worst-case scenario now threatening to become reality for a nation still struggling to recover from a January earthquake.
Thousands of quake survivors remain in flimsy, makeshift, open air camps in and around the capital Port-au-Prince, and observers warn of a further humanitarian catastrophe if the area is hit by a major storm.
US officials meanwhile ordered a mandatory evacuation for 30,000 residents and visitors of North Carolina's Hatteras Island. Thousands more were told to leave the state's Ocracoke Island, where ferry service is the only transport link with the mainland.
President Barack Obama signed a disaster declaration for North Carolina, ordering federal assistance to support response efforts.
"The timing is not good for folks trying to enjoy the last good summer weekend, but safety and protection of personal property comes first," said Cyndy Holda, public affairs officer at Cape Hatteras National Seashore.
The storm was expected to brush by the North Carolina coast late Thursday before making a turn to the north-northeast and speed up the rest of the eastern seaboard. It was due to gradually weaken but could still wreak serious damage.
Earl was churning north-northwest at 18 miles (30 kilometers) per hour, prompting watches and warnings along a wide area of the coastline as far north as Maine and the Canadian province of Nova Scotia.
A hurricane warning, meaning hurricane-force winds are expected, was in effect from the Bogue Inlet in North Carolina to the Virginia border.
A hurricane watch, which means dangerous conditions are possible, was in effect from the North Carolina-Virginia border to Delaware and further north to Massachusetts, including the tourist islands of Martha's Vineyard and Nantucket.
Tropical storm warnings or watches were in effect around the Chesapeake Bay, Long Island, New York and parts of the New Jersey, Massachusetts, Maine and Nova Scotia coast.
National Park officials anticipated a heavy storm surge on Hatteras Island as early as Thursday, when high tide occurs, possibly resulting in road closures.
Briefed by top disaster response aides, Obama said officials were preparing for the "worst case" scenario and would do all they could to protect vulnerable east coast communities.
Airlines said they may cancel flights if conditions worsen.
Earl, which brushed past Puerto Rico on Tuesday, pummeled the Bahamas and eastern Caribbean with rain and heavy winds that downed trees, damaged homes, blocked roads and snapped power lines earlier this week.
The storm comes on the heels of Hurricane Danielle, blamed for rough surf and riptides in New York and New Jersey last weekend.
Tracking closely behind Earl was Tropical Storm Fiona, moving northwestward of Puerto Rico and packing top winds of 50 miles (85 kilometers) per hour, with no immediate threats to land areas.
© Copyright AFP Agence France-Presse GmbH - All rights reserved. This material may not be published, broadcast, rewritten or distributed. All reproduction or redistribution is expressly forbidden without the prior written agreement of AFP.