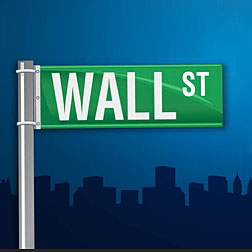 A burst of potential new stock listings as well as mergers and acquisitions is giving Wall Street a fillip even as the US economy shows signs of slowing down.
Top automaker General Motors is leading a pack of companies pursuing initial public offerings of their shares this year, after a long hiatus due to the financial crisis that plunged the country into a brutal recession.
Forced to declare bankruptcy and rely on taxpayer funds to stay afloat, GM has taken a first step away from government ownership, filing last week for a sale of an undetermined number of shares to the public.
GM's sale is expected to raise between 12 and 16 billion dollars in what could be one of the world's largest, and second in the US only to credit card giant Visa's March 2008 sale, which raised more than 19 billion dollars.
Other companies eyeing IPOs include Internet communications giant Skype, toys store chain Toys 'R' Us, online-video site Hulu, consultant group Booz Allen Hamilton, car share service ZipCar and TV rating company Nielsen.
Hulu, for example, is aiming for an offering that could value the company at more than two billion dollars in one of the most prominent media offerings this year, reports have said.
"The IPO market has been very strong and firm," said Mike Gaiden, an analyst at investment-fund rating company Morningstar.
Evariste Lefeuvre, an economist at Natixis, said the IPO levels were set to return to levels of 2007, when a home mortgage meltdown triggered the worst financial crisis in decades.
Also riding on the IPO excitement is a string of mergers and acquisitions that have climbed to their highest levels since late 2009.
Last week was the busiest for mergers and acquisitions since mid-December, with nearly 85 billion dollars of announced transactions, the Wall Street Journal reported Friday.
Intel unveiled plans for a 7.7 billion dollar takeover of Internet security company McAfee.
First Niagara Financial Group announced the biggest US bank merger since the peak of the 2008 financial crisis, a 1.5 billion dollar acquisition of NewAlliance Bancshares.
But the biggest of the deals was Anglo-Australian miner BHP Billiton's hostile 39 billion dollar offer for Canada's Potash.
"M&A (mergers and acquisitions) is back and investment bankers across the world are counting on large deals to make them highly profitable again," said 24/7 Wall Street analyst Douglas McIntyre.
But he warned that "the enthusiasm and investment banking activity around deals may be short-lived" and "the M&A boom could end as quickly as it started."
"Most of the reasons are similar to what they were in late 2007, 2008, and 2009. The capital markets have turned cautious again, and access to money may dry up quickly," McIntyre said.
"The US economy is slowing and may move back into recession in large part because of a housing market that continues to deteriorate and intractably high unemployment."
Similarly, the IPO deals could also turn sour.
Companies moved to sell their shares to the public around July and early August as the markets appeared to be "stable and improving," said Hugh Johnson, chairman of Hugh Johnson Advisors.
"But with markets turning volatile again, the IPO moves may be put on hold," he said as key US stock indices, the blue-chip Dow Jones Industrial Average and the broader S&P 500 index, extended a second consecutive week of losses last week.
"It looked like the timing was appropriate to go to the market and raise capital (but) with the deterioration in the market for the last two weeks, this is going to cause many companies that have been planning an IPO to reconsider the timing," Johnson said.
© Copyright AFP Agence France-Presse GmbH - All rights reserved. This material may not be published, broadcast, rewritten or distributed. All reproduction or redistribution is expressly forbidden without the prior written agreement of AFP.