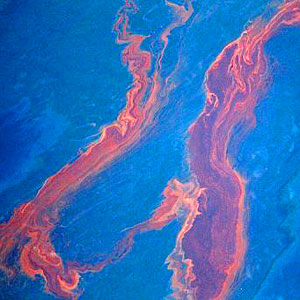 AFP
Oil from a leaking well in the Gulf of Mexico began washing ashore in the southern US state of Louisiana, threatening an ecological disaster, a local official told AFP.
Blown by strong southeast winds, a sheen of oil reached the fragile coastal wetlands of South Pass late Thursday near the mouth of the Mississippi river, said Billy Nungesser, president of Plaquemines Parish, where the oil first hit the shoreline.
It marks the beginning of what environmentalists fear could be one of the worst US ecological disasters in years, with experts still unable to cap the ruptured underwater well which federal officials estimate is spewing about 200,000 gallons of oil per day into the Gulf.
An officer with the US Coast Guard, which is helping coordinate the response to the widening disaster, late Thursday would not confirm that the oil had reached the Louisiana coastline.
"We have BP teams out in the field trying to confirm those reports." Coast Guard Petty Officer Erik Swanson said.
The US government declared a national disaster Thursday as the giant oil slick threatened to wreak economic and environmental havoc along hundreds of miles of the US Gulf Coast, following a deadly explosion April 20 on an oil rig leased by British Petroleum (BP).
The rig collapsed two days later, and three leaks were discovered in the well head and the riser pipe that had connected the rig to the well more than 5,000 feet (1,500 meters) below the surface.
The Gulf Coast region is teeming with hundreds of species of wildlife, and is also home to a massive fishing and seafood industry which experts warn could be ruined should authorities fail to prevent the spill from spreading.
© Copyright AFP Agence France-Presse GmbH - All rights reserved. This material may not be published, broadcast, rewritten or distributed. All reproduction or redistribution is expressly forbidden without the prior written agreement of AFP.