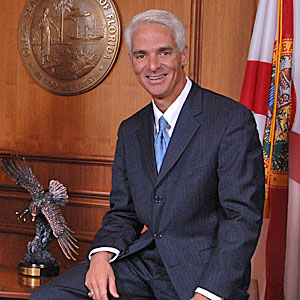 Florida Governor Charlie Crist on Thursday dropped his bid for the state Republican Party's Senate nomination, announcing he would run an independent bid under no party banner in November's election.
Crist's move represented another blow for Republican moderates, as his effort to win the party nomination was overwhelmed by Marco Rubio, the favorite of conservatives and the grass roots Tea Party movement.
"We go straight to November," Crist said, adding he would run for the Senate "without party affiliation."
"Unfortunately, our political system is broken," Crist, once seen as the future of the establishment Republican Party, said at a rally in St Petersburg.
Barely 18 months ago, Crist, who had towering approval ratings as governor, was praised by pundits for threading the political needle of maintaining his own support as Barack Obama snapped up his state on the way to the presidency.
But his backing for Obama's economic stimulus plan, which was pilloried by conservatives, exposed his political flank: the low point came when he was caught on camera in a "hug" with President Obama.
The Florida seat is one of the third of Senate seats up for grabs in November's congressional elections, along with all 435 places in the House of Representatives.
© Copyright AFP Agence France-Presse GmbH - All rights reserved. This material may not be published, broadcast, rewritten or distributed. All reproduction or redistribution is expressly forbidden without the prior written agreement of AFP.