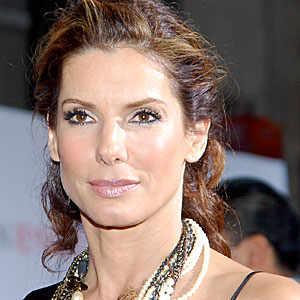 Oscar-winner Sandra Bullock. Photo by Angela George
Oscar-winner Sandra Bullock has filed for divorce from husband Jesse James after a string of lurid revelations linking the reality TV star to a stripper, People magazine reported Wednesday.
In an interview on People's website, Bullock also revealed she had secretly adopted an African-American baby boy prior to her split with James and was now planning to raise the child as a single mother.
"Yes, I have filed for divorce," Bullock, 45, told People, ending weeks of speculation about the fate of her five-year marriage since the allegations of infidelity involving her husband first emerged. "I'm sad and I am scared."
The magazine quoted James, 41, as saying he has a "huge hole" in his heart, but understands her decision.
"Sandy is the love of my life, but considering the pain and devastation I have caused her, it would be selfish to not let her go," said James, who had already issued an earlier statement apologizing to his wife and children, and reportedly sought in-patient treatment at a clinic.
The TMZ.com entertainment website reported Bullock had filed for divorce in Austin, Texas, where she has a home.
Official court papers published on TMZ's website showed "the marriage had become insupportable because of discord or conflict of personalities," preventing "any reasonable expectations of reconciliation."
Bullock's marriage unraveled just 10 days after the popular 45-year-old scooped a best actress Academy Award for her performance in "The Blind Side," where she plays a southern housewife who adopts a troubled homeless teenager.
It was the latest in a series of honors for Bullock during Hollywood's awards season, where she repeatedly paid tribute to her husband during acceptance speeches, proudly stating that James "has got my back."
Yet allegations by tattooed stripper Michelle "Bombshell" McGee that she had been involved in an affair with James for several months left Bullock's seemingly rock-solid marriage in ruins.
Bullock cancelled a string of red carpet appearances and vanished from the public eye following the revelations but confirmation of her divorce and new motherhood marked an emphatic return to the spotlight Wednesday.
People reported that Bullock and James four years ago began the adoption process together and that they received their son, Louis Bardo Bullock, aged three and a half months, in January.
They decided to keep the news of the adoption to themselves until after the Oscars, said the magazine, which reported that Bullock is in the process of finalizing the adoption of the infant.
The magazine on its cover posts a photo of a beaming Bullock holding the baby aloft. "He's just perfect, I can't even describe him any other way," Bullock told People. "It's like he's always been a part of our lives."
James, who hosts the reality TV show "Monster Garage" has three children -- a daughter Chandler and son Jesse Jr. with his first wife, Karla James, and a daughter, Sunny, with his second wife, adult-film star Janine Lindemulder.
News reports said Bullock has helped raise five-year-old Sunny for the last several months after Lindemulder was sentenced to six months in federal prison for tax evasion.
In "The Blind Side," Bullock plays a Southern mom who takes a homeless black youth into her own and nurtures him to high school football greatness.
During her Oscar acceptance speech, a tearful Bullock thanked "what this film was about for me, which are the moms that take care of the babies and the children, no matter where they come from."
Bullock is the latest star to fall victim to the so-called "Curse of the Oscars," following Kate Winslet, Halle Berry, Hilary Swank and Reese Witherspoon as recent winners of the best actress award whose marriages were followed by divorce proceedings shortly afterwards.
© Copyright AFP Agence France-Presse GmbH - All rights reserved. This material may not be published, broadcast, rewritten or distributed. All reproduction or redistribution is expressly forbidden without the prior written agreement of AFP.