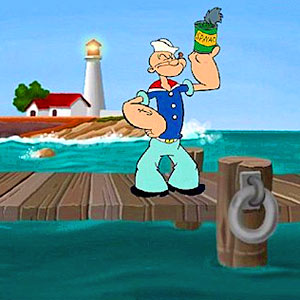 Popeye's famously massive forearms will bulge larger than ever when the squinty-eyed sailor makes his return to the big screen in 3D, industry media reported Tuesday.
Variety magazine reported that a deal has been reached to release a new animated movie starring the flinty seaman, his longtime love interest Olive Oyl, nemesis Bluto and adopted child Swee'Pea.
No date has been announced for the movie's release.
The film will be made by Sony Pictures Animation with its ImageWorks division handling the computer graphics.
"As one of the earliest animated characters... Popeye has become one of the most enduring and iconic cartoon characters of all time and indelibly linked to the evolution of animation," said Hannah Minghella, president of production for Sony Pictures Animation.
Popeye was last seen on the big screen in 1980 when comedian Robin Williams starred in a live-action version directed by Robert Altman.
Created by E.C. Segar, the animated character Popeye first appeared in the already established "Thimble Theater" comic strip in 1929.
Introduced as a walk-on character, Popeye eventually became the strip's star.
In each episode of the cartoon, the iconic sailor invariably succeeds in getting himself or his associates out of a jam, but only after consuming a can of spinach, which has the effect of magically giving him Herculean strength.
© Copyright AFP Agence France-Presse GmbH - All rights reserved. This material may not be published, broadcast, rewritten or distributed. All reproduction or redistribution is expressly forbidden without the prior written agreement of AFP.