Bishop Robert J. Brennan Installed as the Eighth Bishop of the Diocese of Brooklyn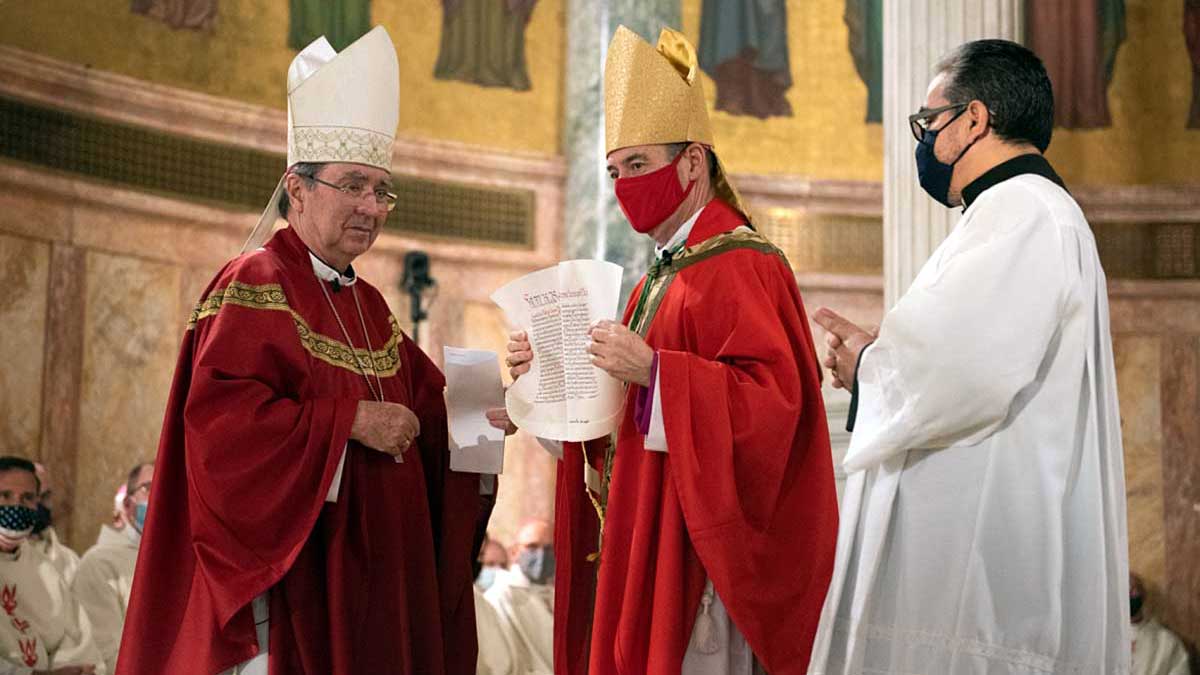 Photos: Courtesy: Diocese of Brooklyn / Jeffrey Bruno / John Quaglione
Bishop Robert J. Brennan was installed as the Eighth Bishop of Brooklyn at a Mass of Installation at the Co-Cathedral of St. Joseph, 856 Pacific Street in the Prospect Heights section of Brooklyn Tuesday afternoon.
Timothy Cardinal Dolan, Archbishop of New York, and Archbishop Christophe Pierre, Apostolic Nuncio to the United States of America, presided at the Installation Mass. Bishop Brennan, who has led the Diocese of Columbus since 2019, was named by Pope Francis to succeed Bishop Nicholas DiMarzio on September 29, 2021.
In attendance for the celebration were 45 Bishops, including 2 Cardinals, more than 300 priests and 100 deacons.
"The world is found in Brooklyn and Queens, every language, every nationality, we truly are the Diocese of Immigrants; and together with the Joy of the Gospel, we are all called to be like Andrew and work together to share the Good News, to tell others about Jesus; to share the loaves and the fish that we have, so that God will use what we have and miracles will take place. Each community renews and reinvigorates this local church with the freshness of the Gospel of Jesus Christ," preached Bishop Brennan in his homily.
Highlights of the Mass included Bishop Brennan knocking on the doors of the Co-Cathedral, and being let in by the rectors of both the Cathedral Basilica of St. James and the Co-Cathedral of St. Joseph, who received the new bishop at the doors of the Co-Cathedral. Bishop Raymond Chappetto, Vicar General, presented Bishop Brennan with a crucifix to be kissed. Bishop Neil Tiedemann, Auxiliary Bishop, then presented him with the aspergillum, the liturgical implement used to sprinkle holy water, first on himself and then on those present.
Bishop DiMarzio then welcomed everyone to St. Joseph's for this joyful occasion. The ceremony then began with Cardinal Dolan greeting the people and inviting the apostolic letter to be read by the Apostolic Nuncio, Archbishop Pierre. After the reading, Bishop Brennan showed the letter to the College of Consultors, the Chancellor, the Curia, and the faithful.
Bishop Brennan then sat in the Cathedra, the Bishop's teaching chair, and was presented with the Crozier (a hooked staff). The cathedra now bears Bishop Brennan's coat of arms. After this, Bishop Brennan greeted various representatives of the diocese, both clergy and laity. Then the celebration of the Eucharist began.
Photos 1-7 - Courtesy: Diocese of Brooklyn/Jeffrey Bruno
Photos 8-10 – Courtesy: Diocese of Brooklyn/John Quaglione