International Polonaise Ball with NASA Engineer Artur Chmielewski and NBA Star Marcin Gortat in Miami, FL
The 48th International Polonaise Ball January 09, 2020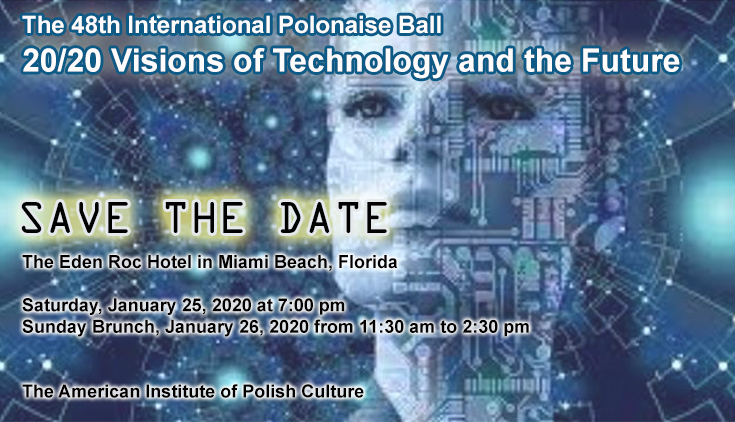 Please join us at this elegant event...one of Miami's longest running grand society galas.
A space-tacular gala event is fast approaching a landing in Miami!
In celebration of 20/20 Vision of Technology and the Future on Saturday and Sunday, January 25 - 26, 2020, the 48th International Polonaise Ball & Brunch is blasting off another great year for The American Institute of Polish Culture. With NASA engineer extraordinaire, Artur Chmielewski, NBA star and philanthropist, Marcin Gortat, Ambassadors, diplomats, scientists, Nobel Prize winners and all our wonderful guests, this is an evening not be missed.
The Ball is less than three weeks away, so secure your tickets now. Deadline to purchase them is Tuesday, January 14, 2020. Please take a moment and go to our website where you will see the invitation and can purchase tickets - http://www.ampolinstitute.org/polonaise.html
Join us for an evening when all the stars will be aligned!
The Ball is our largest fundraiser and helps us to continue bringing Polish related educational and cultural lectures, shows, plays, films, books and the like to communities across America.
Please join us for what is now an elegant and exciting Miami tradition that many have told us is one of the most fun and eclectic gala events around.

Time to reserve the dates on your calendars for the 2020 International Polonaise Ball & Brunch. We would love to see you there!!!