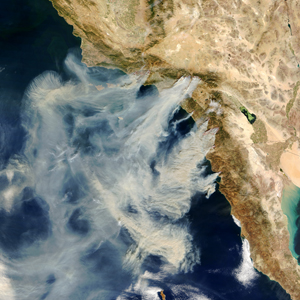 California Wildfire. NASA.GOV
The NYC Office of Emergency Management urges residents who wish to help those affected by the California wildfires to make cash donations to disaster relief organizations.
A list of organizations collecting donations can be found at

National Voluntary Organizations
Active in Disaster:
http://www.nvoad.org
and
Network For Good:
http://www.networkforgood.org


The American Red Cross:
http://www.redcross.org/news/ds/profiles/disaster_profile_CAWildfires.html

The Salvation Army:
http://www.sandiego.salvationarmy.org or (866) 455-4357

Catholic Charities USA:
http://www.catholiccharitiesusa.org/

The Mayor's Fund to Advance New York City:
http://www.nyc.gov/fund or call 311 are also accepting donations for wildfire relief.

Why make cash donations?
Relief agencies will often spend cash in the disaster area, helping the local economy get back on its feet.
Cash donations help avoid the costly and time-consuming process of collecting, packing, transporting, storing, and distributing donated goods.
Cash donations allow relief agencies to make purchases that meet victims' precise needs.
Cash donations to recognized relief organizations are tax deductible.
The NYC Office of Emergency Management