3rd Annual NY Polish Film Festival
May 10, 2007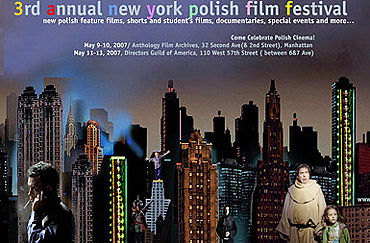 Festival poster by Andrzej Dudzinski
FILMART, in association with The Kosciuszko Foundation, The Association of Polish Filmmakers, and the Polish Film Institute, presents: Third Annual New York Polish Film Festival - MAY 9-13, 2007
Directors Guild Theatre - 110 W 57th Street (bet'n 6 & 7 Ave), Manhattan
Anthology Film Archives - 32 Second Avenue (at 2nd Street), Manhattan
Galapagos Art Space - 70 North 6th Street (bet'n Kent & Wythe), Williamsburg

The 3rd Annual Polish Film Festival in New York is organized under the honorary patronage of Kazimierz Michal Ujazdowski, Minister of Culture and National Heritage of Poland, and Joseph E. Gore, Esq., President and Executive Director of the Kosciuszko Foundation. The Festival will present the best of the most recent Polish feature releases as well as selected documentaries and a variety of short films made by promising students from the world-renowned Polish Film School Lodz, and the Andrzej Wajda Master School of Film Directing in Warsaw. Among the films selected for this year's NYPFF are:

What the Sun Has Seen (Co slonko widzialo), directed by MICHAL ROSA
Retrieval (Z odzysku), directed by SLAWOMIR FABICKI
Chaos (Chaos), directed by XAWERY ZULAWSKI
After the Season (Po sezonie), directed by JANUSZ MAJEWSKI
Solitude@Net (Samotosc w sieci), directed by WITOLD ADAMEK
Persona Non Grata, directed by KRZYSZTOF ZANUSSI
Who Never Lived (Kto nigdy nie zyl), directed by ANDRZEJ SEWERYN
Facing Up (Przebacz), directed by MAREK STACHARSKI
Highlights of the Festival include special screenings of:
Copying Beethoven, directed by AGNIESZKA HOLLAND
The Rape of Europe, documentary directed by RICHARD BERGE, N.NEWHAM & B. COHEN
Betrayal: The Battle for Warsaw, documentary directed bv ANDREW ROTHSTEIN
This year special guests include: AGNIESZKA HOLLAND, WITOLD ADAMEK,
XAWERY ZULAWSKI, MARIA STRZELECKA, ANTONI PAWLICKI and ANDRZEJ CHYRA.
All Polish films are shown with English subtitles.