Hold Ruski - Jan Matejko's 19th century famous painting - "Under Arrest".
November 01, 2011
Exactly 400 years ago on October 29th 1611, in the Royal Castle in Warsaw, Tsar Vasili IV of Russia and his brothers bowed on their knees, begged for mercy, swore loyalty and surrendered the Russian crown to the Polish King Sigismund III Vasa.
In 1607, Tsar Vasili made a military alliance with Sweden against Poland. The Polish King Sigismund III responded militarily.

On July 4th 1610, 5,000 Polish elite cavalry, the hussars, defeated the numerically superior combined Russian and Swedish army of about 35,000-40,000 soldiers in five hours during the Battle of Klushino (Kluszyn), under hetman Stanislaw Zolkiewski command.

On August 27th, 1610 Moscow surrendered. Russian Boyars signed a treaty and the Polish forces entered Kremlin. Tsar Vasili IV was captured by the Hetman Stanislaw Zolkiewski and delivered to the Royal Castle in the victory parade through the streets of Warsaw.

Over 60 years ago, Jan Matejko's famous 19th century painting titled "Hold Ruski" portraying victory over Russia, was placed "under arrest" by the communist regime into the underground storage of the Polish National Museum.

To this day, despite Poland's regained independence in 1989, the public is not permitted to view this 19th century famous Jan Matejko's painting.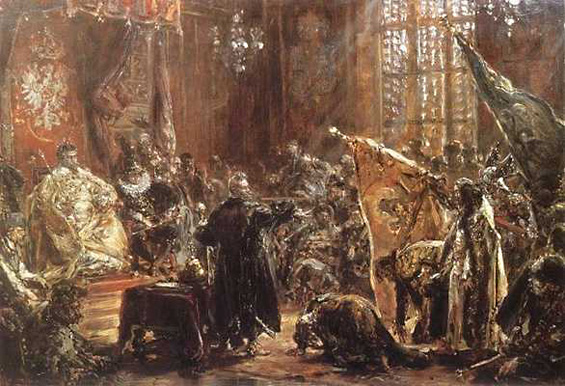 www.wpolityce.pl
www.PoloniaCenter.org
Other articles: HISTORY LESSONS
SEE MORE