Queen Elisabeth and Prince Philip - 74 Years of Extraordinary Love
Brian L. Scott Jr. April 20, 2021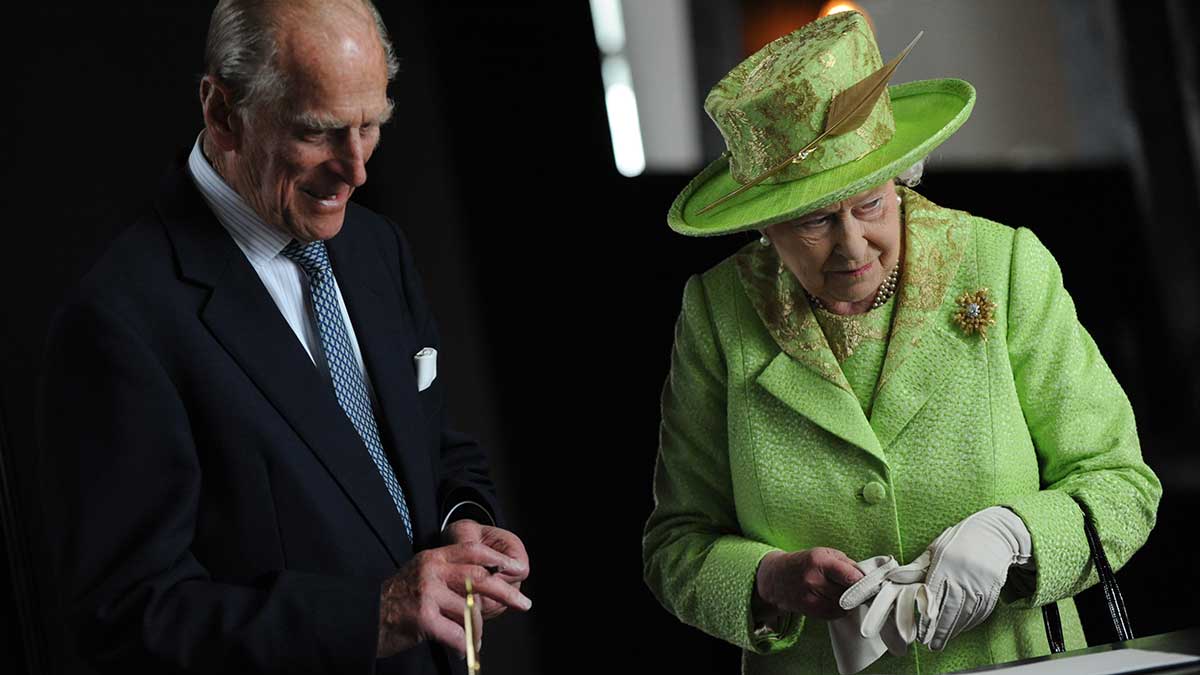 Her Majesty the Queen and His Royal Highness Prince Philip visit to Titanic Belfast on the historic day she shook hands with Martin McGuinness - 27th June 2012. Foto: Titanic Belfast, CC BY 2.0, via Wikimedia Commons
Aristocrats from all over the world express their heartfelt condolences to the British Royal Family.
"He has, quite simply, been my strength and stay all these years, and I, and his whole family, and this and many other countries, owe him a debt greater than he would ever claim, or we shall ever know" - Her Majesty The Queen, 1997.
Prince Philip, the Duke of Edinburgh, husband of Queen Elizabeth II died on Friday at Windsor Castle in England. He was 99.
Almost 100 years after he entered the world in Corfu, Prince Philip's final journey took place on the 17th of April 2021.Condolences flow from all over the world. Europe's royal households and Commonwealth leaders alike praised the Duke of Edinburgh's public service. As the longest-serving British consort in history, the Duke of Edinburgh held a special place among the aristocracy.
Many words of heartfelt sympathy were expressed in these last days. King Willem-Alexander, Queen Máxima, and Princess Beatrix of the Netherlands shared an official statement of sympathy:
"It is with great respect that we remember His Royal Highness, Prince Philip. Throughout his long life, he committed himself with dedication to the British people and to his many duties and responsibilities. His lively personality never ceased to leave an unforgettable impression. Our deepest and most heartfelt sympathy goes out to Her Majesty Queen Elizabeth and all the members of the Royal Family."
King Carl XVI Gustaf of Sweden released an official statement: "The Queen and I were deeply saddened to learn of the death of His Royal Highness The Duke of Edinburgh. Prince Philip has been a great friend of our family for many years, a relation which we have deeply valued. His service to his country will remain an inspiration to us all. We offer our sincere condolences to Her Majesty The Queen, The Royal Family and the people of the United Kingdom."
Condolences were also expressed by the Princess Camilla of Bourbon-Two Sicilies, Duchess of Castro, who is very active in charity associations, including UNICEF and the Red Cross.
The official statement has been issued on the official website of the Real Casa di Borbone delle Due Sicilie:
"My wife and I are deeply saddened to learn about the loss of His Royal Highness The Duke of Edinburgh.His demise leaves us short of words to convey our deep sorrow. H.R.H. Prince Philip devoted His lifetime to serve the United Kingdom and the Commonwealth of nations, the love of His people will never change.Having had the pleasure of meeting Him several times, the enjoyable memories of those occasions will never fade.Our thoughts and our prayers are with Her Majesty The Queen, the Royal Family and the people of the United Kingdom".
Peace Ambassador Princess Angelika Ewa Jarosławska Sapieha also shared the statement:
"I was deeply saddened to learn of the death of His Royal Highness The Duke of Edinburgh.His Royal Highness had to live a life of relentless royal duty, dedicated whole- heartedly to a public role. He brought inspiration and example to millions by his unwavering duty.His Royal Highness was a loyal servant and, above all, Her Majesty the Queen's loyal consort.I extend my deepest sympathies to the Royal Family.Our thoughts and prayers are with Her Majesty the Queen and the Royal Family at this time."
Other articles: HISTORY LESSONS
SEE MORE