The Empire State Building Shines Red & White To Celebrate Poland In 2008 Summer Olympics
August 08, 2008
World-Famous Skyscraper Lights Up for Countries Competing in the Summer Games
The Empire State Building (ESB) will celebrate the countries competing in this year's Olympics by lighting each of the four sides of its famed tower—north, south, east and west—the colors of participating countries' flags each night throughout the summer games.  This marks the first time ESB has split the tower's sides with four separate country's lights in its history.

The Empire State Building will celebrate Poland on Sunday, August 10, 2008 by shining red and white on the building's west side in honor of the colors of Poland's flag.

For the 17 nights of the games, the monumental lightings will honor the top 66 countries participating in the Olympics, based on the number of athletes attending from each country.  

"The Empire State Building is honoring the athletes that have trained and worked their entire lives to make it to this international stage of competition where unity, athleticism and sportsmanship are revered," said James Connors, General Manager for the Empire State Building. "We are proud that the Empire State Building can be a part of this international celebration and hope that its tower lights are another source of pride for the athletes and their countries taking part in the summer games."

Brief History of the Empire State Building Lighting
In 1932, a searchlight beacon alerting people for 50 miles that Franklin D. Roosevelt had been elected president of the United States was the first light to shine on top of the Empire State Building, and in 1976, colored lighting was first introduced as the tower was lit in red, white and blue to celebrate the American Bicentennial. The Empire State Building's tower lights are internationally recognized and are illuminated to commemorate holidays, events and causes that are of importance to New Yorkers, Americans and citizens of the world.  An ESB lighting celebrates remarkable events, iconic traditions or significant anniversaries, such as E.U. Day, Lunar New Year, Earth Day, Veteran's Day and many more.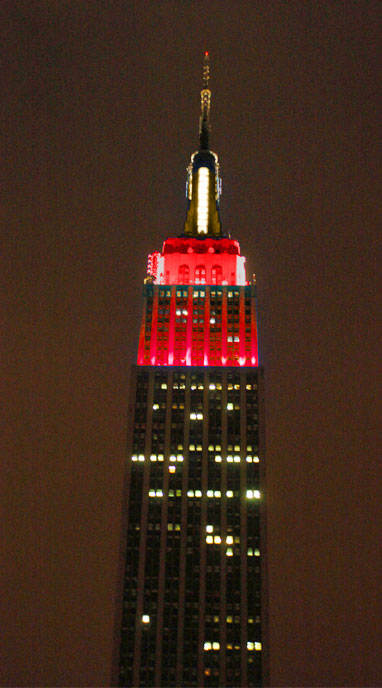 About the Empire State Building
Soaring 1,454 feet above Midtown Manhattan, the Empire State Building is the "World's Most Famous Office Building."  With new investments in infrastructure, public areas and amenities, the Empire State Building has attracted first-rate tenants in a diverse array of industries from around the world.  The skyscraper's robust broadcasting technology supports all major television and FM radio stations in the New York metropolitan market. The Empire State Building was recently named America's favorite building in a poll conducted by the American Institute of Architects. For more information on the Empire State Building, please visit www.esbnyc.com.

Contact: Edelman Public Relations
Stephanie Tannenholtz, 212.704.4555
Viet N'Guyen, 212.704.4535
Other articles: HISTORY LESSONS
SEE MORE