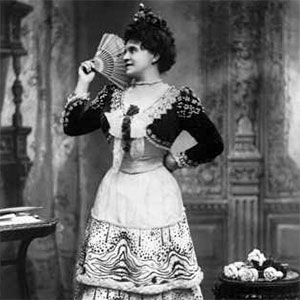 Marcella Sembrich was the stage name of the Polish coloratura soprano, Prakseda Marcelina Kochańska. Sembrich was born at Wisniewczyk, Poland in 1858.
Considered one of the 100 Greatest Singers in the World, she was that rare occurrence that had a total musical personality. She was a skilled violinist, an excellent pianist and one of the most brilliant representatives of the vocal art of all time. Her perfect tonal balance, unique textural quality and incredibly wide range caught the attention of Franz List in Vienna.
After only two years of formal study, Sembrich made her opera debut as Elvira in Bellini's Puritani on June 3, 1877. She not only sang Puritani, but also Dinorah, Lucia di Lammermoor, Robert le Diable and La Sonnambula! It is a testament to her proper early training and intelligence that a 19-year-old soprano could learn so many roles in a foreign language so quickly.
Facing the dual roles of motherhood and performer, she battled opera house politics for years before auditioning in London. In June 1880 she created a sensation in her debut at Covent Garden as Lucia in Donizetti's Lucia di Lammermoor. She became a great favorite in the characters of Zerlina, Don Giovanni; Susanna, The Marriage of Figaro; Konstanze, The Abduction from the Seraglio; Lady Harriet/Martha, Martha; and, of course, Lucia.
In 1883, Sembrich came to the United States to sing in the newly founded Metropolitan Opera company where she made her Met debut as Lucia in the company premiere of Lucia di Lammermoor. She was also the Met's first Elvira in I Puritani, Violetta in La Traviata, Amina in La Sonnambula, Gilda in Rigoletto, Marguerite in Les Huguenots and Rosina in Il Barbiere di Siviglia. When German opera reigned supreme at the Met, Sembrich became a tremendous favorite at the Italian Opera in St. Petersburg before returning to the Met in 1898. Her superior intelligence and musical sensitivity combined with her outstanding vocal gifts to make Sembrich one of the most eminent female singers in the world.
In 1909, her silver jubilee of her Met debut was celebrated with a farewell gala. She gave recitals until 1917. From then on she devoted herself to teaching at the Curtis Institute in Philadelphia and at the Juilliard School of Music. The outbreak of World War I limited her annual summer trip to the Alps so she fell in love with the American mountains instead. Sembrich spent summers in the Adirondack Mountains area and Lake Placid, eventually buying a home on Lake George. The Marcella Sembrich Opera Museum can be found at Bolton Landing, New York.
She was a great Polish patriot throughout her life. During World War One she was President of the American-Polish Relief Committee of New York. She was wholly devoted to raising money, food stuffs and clothes for her suffering countrymen. She died in 1935 in New York at the age of 75. President Theodore Roosevelt expressed personal appreciation for her many charitable endeavors.
The first ACPC Marcella Sembrich Vocal Competition was held in 1954 in Milwaukee. The Award was reinstituted in 1971 and established as an annual event with a concert to be held during the convention to presented by the winner of the award bearing the artist's name.
Hear her perform:
Learn more about the Sembrich Museum at www.thesembrich.org
Other articles: HISTORY LESSONS
SEE MORE