Poland's President Komorowski Signs Petition on Concentration Camps
December 10, 2010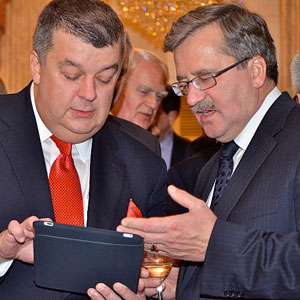 Poland's President Bronislaw Komorowski (right), signs the petition on an iPad held by Alex Storozynski, President and Executive Director of The Kosciuszko Foundation
Poland's President Bronislaw Komorowski has signed the Kosciuszko Foundation's petition asking the media to stop using the historically erroneous phrase "Polish concentration camps" to describe camps built by Nazi Germany.
The phrase is damaging to Poland and a documentary called "Upside Down" by Canadian filmmaker Violetta Cardinal interviews Canadian and American school children who think Poland built the concentration camps because they are referred to as "Polish."  That is the result of the media's shameful Holocaust revisionism.

So far, the only major media organization to address this issue publicly is The Wall Street Journal, which put an entry into its Essential Guide to Business Style and Usage, that said:  "Concentrate on this: There were no Polish concentration camps in World War II. Auschwitz and other such camps in Polish territory were operated by German Nazis."

The WSJ's Style & Substance editor, Paul R. Martin wrote a bulletin to the paper's editors and reporters, saying, "The slip is easy to make, but it understandably raises hackles in Polish camps and shouldn't happen." The bulletin continues, quoting, Marcin Sobczyk, Warsaw bureau chief for the WSJ Newswires. "Auschwitz is officially known as 'Auschwitz Birkenau: German Nazi Concentration and Extermination Camp.' He adds, "There's an old argument that Auschwitz was operated on Polish soil, and therefore that it's fair to say it was a Polish camp. However, it's also false. During WWII, the Polish state existed only as a mostly London-based government in exile and didn't control any territory during the war. What's more, Nazi Germany insisted Auschwitz wasn't even occupied, but an inseparable part of the Reich. In October 1939, Nazi Germany annexed the Polish town of Oswiecim, renamed it Auschwitz and incorporated it into its gau (province) of Oberschlesien (Upper Silesia) as part of the Landkreis (county) of Bielitz. The Auschwitz concentration camp was therefore on the territory of the Reich."

Other prominent people that have signed the Kosciuszko Foundation's petition include: President Lech Walesa, Nobel Peace Prize Laureate; Michael Schudrich, Chief Rabbi of Poland; Dr. Zbigniew Brzezinski, Former U.S. National Security Advisor; Prof. Norman Davies, Historian, Oxford, England; Jan A.P. Kaczmarek, Oscar-winning composer; David Harris, Executive Director, American Jewish Committee; Congresswoman Marcy Kaptur, (Ohio-9); Congressman Mike Quigley, (Chicago, Ill.-5); Congressman Daniel Lipinski, (Chicago, Ill.-3); Honorary-Oscar recipient Andrzej Wajda; and Actor Daniel Olbrychski, (star of SALT with Angelina Jolie).

So far, more than 148,000 people from around the world have signed the petition. The text is as follows:

WHEREAS the media uses the historically erroneous terms "Polish concentration camp" and "Polish death camp" to describe Auschwitz and other Nazi extermination camps built by the Germans during World War II, which confuses impressionable and undereducated readers, leading them to believe that the Holocaust was executed by Poland, rather than Nazi Germany,

WHEREAS these phrases are Holocaust revisionism that desecrate the memories of six million Jews from 27 countries who were murdered by Nazi Germany,

WHEREAS Poland was the first country invaded by Germany, and the only country whose citizens suffered the death penalty for rescuing Jews, yet never surrendered during six years of German occupation, even though one-sixth of its population was killed in the war, approximately half of which was Christian,

WHEREAS educated journalists must know these facts and not cross the libel threshold of malice by using phrases such as "Polish concentration camps."

BE IT THEREFORE RESOLVED that the undersigned request that The New York Times, The Washington Post, the Associated Press, and TIME magazine include entries in their stylebooks requiring news stories to be historically accurate, using the official name of all "German concentration camps in Nazi-occupied Poland," as UNESCO did in 2007 when it named the camp in Auschwitz, "The Auschwitz-Birkenau German Nazi Concentration and Extermination Camp (1940-1945)."

The Kosciuszko Foundation
15 East 65th Street
New York, NY 10065
(212) 734-2130
http://www.thekf.org/
The Kosciuszko Foundation promotes educational and cultural exchanges between Poland and United States.
To become a member, donate, or establish a scholarship fund, call (212) 744 2130 or, click here to join.