It's Pączki Time! Pączki, Polkas & Piwo, Youngstown, OH
January 28, 2021
PolishYoungstown is excited to invite you to celebrate Carnival season in a festive POLISH fashion! Translated as Donuts, Dancing, and Draught, this LAST-CHANCE-BEFORE-LENT celebration offers you delicious pączki and Polish-inspired food specialties!
Sure it will be toned down this year but we will still have Pączki Royalty + a party atmosphere (Covid-19 has taken away our live music)! Wash it all down with some nice, cold Polish beer and you've got the makings for a happy, toe-tapping, game-playing, and give-away filled day!
This year we are excited to say we have EXPANDED OUR PĄCZKI PARTY LOCATIONS! Dine-In Safely OR Carry Out
Pączki, Polkas & Piwo (Donuts, Dancing & Drafts Party)
Tuesday, February 16, 8 AM – 8 PM
Kravitz Delicatessen - Belmont Avenue
Casual Pint in Shops at Boardman Park featuring Polish food specialties from Babcia's Lunchbox for take-out or to enjoy dining in. NEW THIS YEAR !!
Carnival wouldn't be the same without our signature treat! Join us and participate in our 11th Pączki Sale – a portion of each dozen sold goes to benefit PolishYoungstown's genealogy research and travel grant programs.
PLACE YOUR PREORDER TODAY at our website - www.PolishYoungstown.org - LIMITED AVAILABILITY!
We are ready to satisfy even the most indulgent sweet tooth with locally made donuts from Babcia's recipe with your favorite flavors:
Apricot
Lekvar/Plum
Plain Sugared
Poppy Seed
and, of course, the original and most authentic - the famous Rose Hip Jam! PLUS
PYTown Pączek™ (half rose+half custard)
Pączki Prices: Preorder recommended
$2 pączek
$10 half dozen (single flavor) pączki
$18 mixed dozen (two of each flavor minus the plain)
Prepaid preorders are available online at www.polishyoungstown.org or by calling Kravitz Deli or Casual Pint.
BACK BY POPULAR DEMAND:
The delicious creation of the PĄCKZI SLIDER!! It is a plain, sugared pączki donut, grilled on the flat top joined by grilled kielbasa and dressed in red onions, brown mustard, and, of course because it is Kravitz, a pickle slice!
The PYTown Pączek. Made with an extra dose of Polish pride, this Pączek is filled with both RED (rosehip jam) and WHITE (Bavarian cream)!! It's your two favorites melded together!!
What is a Pączki?
They are very rich donuts, deep-fried and then filled with fruit or cream filling and covered with powdered sugar or icing. Eating pączki is the traditional Polish way to indulge before the fasting in observance of Lent begins on Ash Wednesday. Although they look like jelly doughnuts, pączki are made from especially rich dough containing eggs, fats, sugar, and sometimes milk. Traditionally, a small amount of Spiritus grain alcohol is added to the dough before cooking; as it evaporates, it prevents the absorption of oil deep into the dough. More info available here.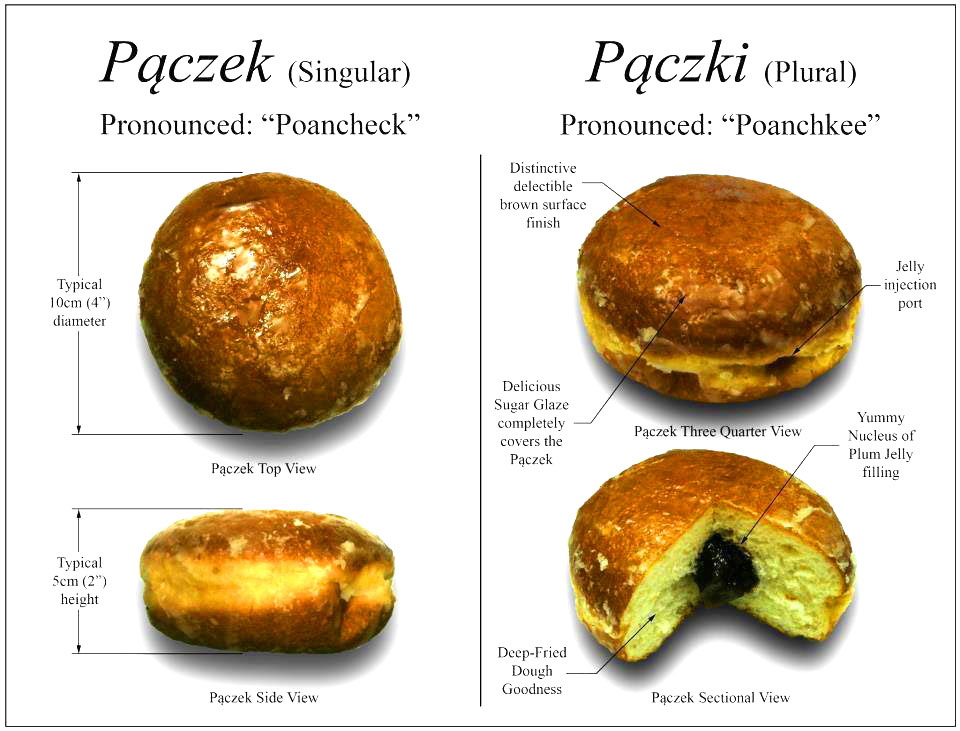 In the Catholic faith, Lent calls for 40 days of fasting: meaning one meal a day and full fasting on Friday. Any rich foods are not allowed. The week before Lent begins on Ash Wednesday, families used up food so that it would not be spoiled or wasted. What better way to use up eggs, butter and sugar, and fruit then by treating themselves one last time with these rich donuts.
According to The Polish American Journal, this tradition was started in the medieval age during the reign of August III. The zapusty or "carnival season" reached its height during this period. Elegant balls were held in well-to-do manor houses, attended by young men, women, and their parents. Country-folk, on the other hand, would make merry, drink, dance and flirt at the village inn. The rich would feast on fancy hors d'oeuvres, roast game, and fine wines. Peasants enjoyed their zimne noge (jellied pig's knuckles), kiszka (blood and groat sausage), and kielbasa z kapusta (sausage and cabbage), which they washed down with beer and gorzalka, the least expensive vodka available. Common to both groups, however, were pączki, which were consumed in huge quantities.
In Poland, pączki sales are the highest on Tłusty Czwartek, or "Fat Thursday." This day marks the start of the final week of the pre-Lenten celebrations.
In the United States, Pączki Day is observed the day before Ash Wednesday. It became popular in the Polish communities from the beginning of the 20th century. Polish immigrants settled in different parts of the U.S., such as Detroit, Baltimore, Chicago, Buffalo, and especially Hamtramck, Michigan -- considered the pączki capitol of the world. Each year they add music, dancing to their pączki process. In the wee hours, the Polish bakeries will have lines around the block where people wait to buy their treats!
Recently, Pączki Day has expanded as more people have heard about this Polish tradition and want to become a part of this tasty holiday. Wannabe pączki can be found up to a month before Fat Tuesday in almost every food store: deli, grocery, and bakery. People just cannot pass up a delicious food holiday and Pączki Day can be considered one of the best.
Want to talk about our favorite donut? Maybe participate in making a few? Let us know!
Thank you in advance
Aundréa Cika Heschmeyer, Director
PolishYoungstown