Emergency Contact & Useful Information for Polish Citizens in the US
March 29, 2020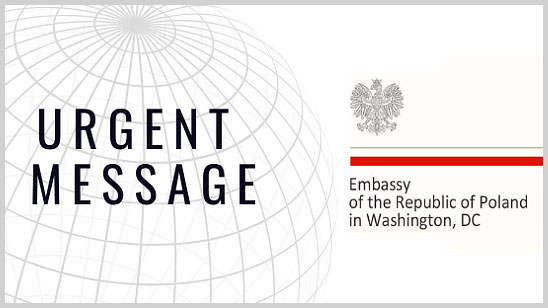 Changes in the work organization of the Consular Section of the Embassy of the Republic of Poland in Washington, DC with regards to the epidemiological situation.
Please note that from Monday, March 16, 2020, until further notice:
Scheduling new visits to the E-consulate system will not be possible.

Visa appointments are suspended.

All persons submitting a passport application are requested to prepare their documentation very carefully: completed passport application, passport dispatch application, any other documents, e.g. regarding applicable discount, with necessary copies, before arriving at the Consulate. We recommend using the option of collecting issued passports by post (additional fee of 13 USD).

Pre-arranged visits regarding confirmation of signature and trusted profile will be arranged in person. The Consulate will also continue receiving persons who apply for a consul's certificate for the transport of corpses or human remains. However, please consider refraining from applying for the abovementioned activities in the near future, unless there is a true necessity. Regarding legal and citizenship matters, please first contact us by mail - waszyngton.amb.wk@msz.gov.pl or by phone – 202 499 1930.

Visits for matters related to the Pole's Card are suspended.

Accepting and issuing school IDs will only be possible by correspondence.

We suggest that payments for all consular activities be made in the form of a Money Order.
In urgent matters requiring an appointment (e.g. a trip that is documented and impossible to postpone, issuing a consul's certificate for the transport of corpses), please contact us by email waszyngton.amb.wk@msz.gov.pl.
Useful information and answers to frequently asked questions on all aspects of consular activities can be found on the website in the consular information section.
The above changes in the work organization of offices do not limit access to the consular office for Polish citizens in the area of consular assistance in urgent situations requiring immediate action or intervention by the consul.
The Consulate will continue to provide assistance to Polish citizens in emergency and urgent situations. Such circumstances should be reported by calling the emergency number +1 202 368 4102 or e-mailing waszyngton.wk.dyzurny@msz.gov.pl
We appreciate your support and understanding.

More information on CORONAVIRUS
SEE MORE