The Dixie Company Jazz Band at the Sacramento Music Festival and in Toledo
May 10, 2014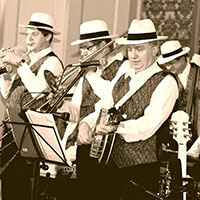 The Dixie Company Jazz Band, one of only a few traditional jazz bands in Poland, will perform at the Sacramento Music Festival in California along with such artists as multiple Grammy Award- winning Los Lobos, the legendary Wanda Jackson, blues musician John Lee Hooker, Jr., and many others.
The 41st Anniversary Sacramento Music Festival is presented by the Sacramento Traditional Jazz Society with support from the Sacramento Convention & Visitors Bureau. Dixie Company will give 10 concerts during the 4 -days of the Festival, May 23-26.
Since its formation in 1993 the Dixie Company Jazz Band has given hundreds of concerts and taken part in a number of high-profile events and festivals in Poland and other European countries. For the last five years Dixie Company has successfully organized Traditional Jazz Festival in Poznan, Poland. Since its first edition the festival has hosted dozens of stars from Australia, Germany, Czech Republic, United Kingdom, Ukraine and Poland. Such outstanding musicians as Kenny Ball and his Jazzmen and singer and pianist Donna Brown took part in the festival. Dixies performances are fast moving shows leaving the audience totally exhilarated. The strong front line and the solid rhythm section combine to create enjoyable and swinging traditional jazz.
Current lineup:
Krzysztof Zaremba
Jakub Marszalek
Rafal Kubale
Mariusz Gajdziel
Wojciech Warszawski
Bogdan Ciesielski
Piotr Soroka
The participation of the Dixie Company Jazz Band is made possible by a generous grant from the European Regional Development Fund within the Wielkopolska Regional Operational Programme for 2007-2013. European Funds - for the development of an innovative Wielkopolska. Additional support provided by the Polish Cultural Institute New York.
Wednesday, May 14, 7:00PM
Thursday, May 15, 7:00PM
University of Toledo Recital Hall, Toledo, OH
Center for Perfroming Arts (Secor Rd.) Map
Tickets: $20/ $10 student
Sacramento Music Festival
Sacramento Music Festival Map and venues information
Sacramento Music Festival Tickets: ALL-Event Festival Pass $99 (Youth $50), Daily Passes $39 (Youth $20)
Dixie Company Jazz Band at the Sacramento Music Festival
Friday, May 23, 2:00PM
Hyatt Ballroom 
Friday, May 23, 5:00PM
Golden Eagle Room 
Friday, May 23, 8:00PM 
Courtyard DOro

Saturday, May 24, 3:30PM
Holiday Inn Ballroom

Saturday, May 24, 8:00PM
Embassy Suites

Sunday, May 25, 10:00AM
Firehouse Lot

Sunday, May 25, 5:00PM
Holiday Inn Ballroom

Sunday, May 25, 8:00PM
Hyatt Ballroom

Monday, May 26, 11:30AM
Hyatt Ballroom
Monday, May 26, 2:30PM
Riverfront Refuge (Along the river)

http://www.polishculture-nyc.org
Other articles: EDUCATION & SCHOLARSHIPS
SEE MORE