Pawel Althamer's Queen Mother of Reality in Long Island City, NY
May 08, 2014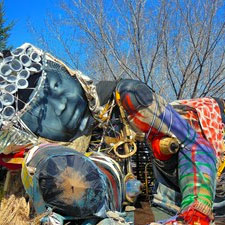 Pawel Althamer's monumental sculpture Queen Mother of Reality will overlook the East River at Socrates Sculpture Park through August 3.
Originally created as a Performa Commission in November 2013, Queen Mother of Reality will continue to encourage collaboration and learning in a new location. This mixed-media sculpture, constructed from urban detritus, hubcaps, photographs, car parts and other found materials, is a collaborative work with artists Noah Fischer, Roman Stanczak, Rafal Zwirek, and Jim Constanza (aka the Aaron Burr Society), as well as Althamer's sons Bruno Althamer and Szymon Althamer and members of the community.
The sculpture is dedicated to and inspired by Queen Mother Dr. Delois Blakely, a U.S. Ambassador of Goodwill to Africa, who has been the Community Mayor of Harlem since she was sworn in by Mayor Rudolph Giuliani in 1995.
The summer restaging of the Queen Mother of Reality sculpture reflects the Socrates Sculpture Parks mission to engage it's vibrant audience through public art as well as Pawel Althamer's dedication to encouraging that ever-present collaboration throughout his artistic practice. The neighboring communities and visitors will be able to participate through workshops, events and throughout the summer.
From May 10, 2014, Socrates Sculpture Park will provide a free weekend shuttle bus service, LIC Art Bus, between MoMA PS1, the Noguchi Museum, the Sculpture Center and Socrates Sculpture Park.
Queen Mother of Reality is presented by Socrates Sculpture Park in collaboration with Performa, and in partnership with the Polish Cultural Institute New York.
Sunday, May 11, 2014 - Sunday, August 3, 2014
open everyday 10am - sunset
Socrates Sculpture Park
32-01 Vernon Boulevard, Long Island City, NY
http://www.polishculture-nyc.org
Other articles: EDUCATION & SCHOLARSHIPS
SEE MORE