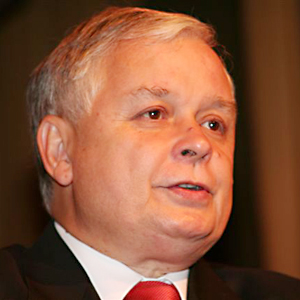 President Kaczynski of Poland yesterday sent a message to critics who say the invasion of Iraq has made America less safe: "The United States is in a better position now than before the outset of the Iraq war."
By ALEX STOROZYNSKI
Special to the Sun, September 25, 2007

President Kaczynski of Poland yesterday sent a message to critics who say the invasion of Iraq has made America less safe: "The United States is in a better position now than before the outset of the Iraq war."

In an interview with The New York Sun, Mr. Kaczynski said European countries such as France and Germany have become more pro-American because of the war.

"German Chancellor Gerhard Schroder, going back now to the first President Bush, was surprisingly pro-Russian and anti-American, surprisingly so," he said. "French President Jacques Chirac, even though for completely different reasons, had similar politics."

Now, Mr. Schroder's successor, Chancellor Merkel, "is much more pro-United States than Schroder was. You can say that there will be a similar difference in the policies of Jacques Chirac and President Nicolas Sarkozy. Of course, the politics of Mr. Sarkozy are still taking shape. I will see him in a few days… We'll see."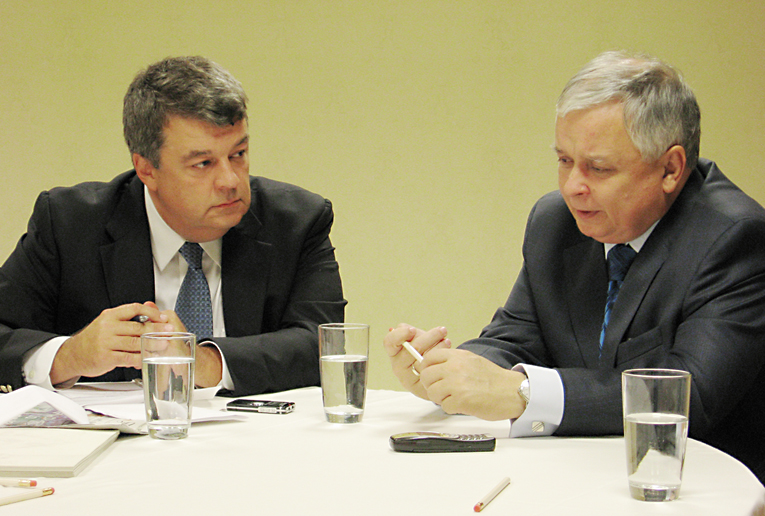 Photo: Alex Storozynski and President Lech Kaczynski

Because Europe realizes there is an increased threat of terrorism on its doorstep after the 2004 train bombings in Madrid, Spain, governments on the continent understand that America is needed to help keep the world secure, Mr. Kaczynski added.
Another factor influencing Europe's change in attitude toward America, he said, is President Putin's use of his oil supply as a way to bully European countries that do not agree with the Russian leader. A year and a half ago, Russia briefly turned off the oil spigots to Ukraine to send a warning to the former Soviet republic, which had been straying from Moscow's sphere of influence. This is a danger that is clearly understood in European capitals, Mr. Kaczynski said.
The Kaczynski administration is negotiating with America to install an anti-missile system on Polish soil that would defend Europe and America against weapons fired from Iran. Russia, which sees the plan as a menace, has been highly critical of the measure and has threatened to aim its own missiles at Poland.
"We want the missile shield. However, we also have our own security needs," Mr. Kaczynski said. "We understand the power of the United States, and we understand how much we need this country for our security. We are carrying out our responsibilities; we're in Iraq and Afghanistan. We're in Iraq much longer than we expected to be. … We are willing to work together in other ways."
Mr. Kaczynski said this was particularly important given the threat posed by Iran, whose president, Mahmoud Ahmadinejad, spoke yesterday at Columbia University.
"We'd like to come to an understanding with Iran, that is the tendency dominating the European Union," he said, "but the present Iranian authorities are dangerous, and it looks like Iran might be preparing for war."
The Polish president is in town for the opening of the U.N. General Assembly, and tomorrow, he will attend a presentation at the Polish consulate in New York about the new museum of Polish Jews that is under construction in Warsaw. Mr. Kaczynski has been critical of Mr. Ahmadinejad's denial of the Holocaust.
Several years ago, when he was Mayor of Warsaw, Mr. Kaczynski set the project in motion by donating land for the museum in the former Warsaw ghetto. As president, he has helped fund the project and sought out Jewish scholars and academics to create an evenhanded exhibit.
Under communism, Poland was unable to look objectively and critically at its own history, especially when it came to Jews. Mr. Kaczynski said, "I talk a lot with members of the Jewish community, especially those who have Polish roots, and even those who don't. And the message I have for them is that we want to improve our relations as much as possible."
Mr. Kaczynski will meet tomorrow with the executive director of the American Jewish Committee, David Harris. Members of the Polish president's staff said Mr. Harris is a friend of Poland, has supported democracy in Poland, and has helped to lobby to include the country in NATO.
Mr. Kaczynski pointed out that Poland and Israel collaborate in key areas but that there is still work that needs to be done between the two countries.
There was anti-Semitism in Poland between the wars," Mr. Kaczynski said, "but I cannot accept the concept of 'Polish' death camps because this is an obvious fallacy. It would obviously be untrue to say that there was no anti-Semitism in Poland, because there was a political camp that relied on this. But let's remember that this camp was not in power." The government that was in power, run by Marshal Józef Pilsudski, he said, was supportive of the Jewish community. "We want the best relations. We won't hide what was bad, but let's not cover up what was good. For 800 years or so, most of the Jewish Diaspora lived in Poland, where Jews developed and expanded their culture, religion, etc."
This, Mr. Kaczynski said, is the story that should not be forgotten.

By ALEX STOROZYNSKI
Special to the Sun, September 25, 2007