Paulina Olowska @ Metro Pictures
January 08, 2007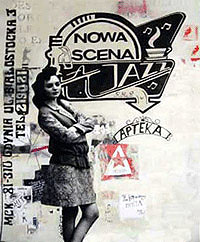 Paulina Olowska
NOWA SCENA

JANUARY 6 – FEBRUARY 3, 2007
Opening reception: Saturday, January 6, 6-8 PM

Metro Pictures
519 West 24th Street, New York, NY 10011
Tel. (212) 206-7100
Paulina Olowska presents "Nowa Scena" at Metro Pictures, her first solo exhibition in New York. In this new body of work, Olowska exploits the style and esthetics of the 1960s propaganda war between the US and the Soviet bloc as well as the underground flow of popular culture as evidenced in the Polish punk movement of the 1980s. Olowska's paintings, drawings and collages borrow imagery from USSR/Soviet Life (a Soviet publication intended for distribution in the US) and Amerika (a U.S.I.A. periodical distributed in Soviet
countries) as well as Polish punk band imagery. The amalgam of cross-cultural influence has been evident in Olowska's earlier projects that reference manifestations of Eastern European modernist design and political feminism.

Paulina Olowska was born in 1976 in Gdansk, Poland, and graduated from the Academy of Fine Arts in Gdansk (2000) and the School of the Art Institute of Chicago (BFA 1996). She also studied at the Rijksakademie in The Hague. She lives in both Gdansk and Warsaw. Solo exhibitions include the Abtelberg Museum in Monchengladbach, the Kunstverein Braunschweig in Germany; Cabinet Gallery in London, UK; Public Space Commission (with Lucie McKenzie) in the Gdansk Shipyard, and the Centre for Contemporary Art in Warsaw. Group shows include the Van Abbemuseum Eindhoven, Stedelijk Museum Amsterdam, National Museum in Warsaw, Sculpture Center in New York; and the Istanbul, Moscow and Venice biennials. She is the recipient of a DAAD (Berlin) fellowship for 2007.

A fanzine produced by Olowska for this exhibition in collaboration with Robert Jarosz, an authority on Polish punk music, is available at the gallery.