POZA - Real Art Ways Major Multidisciplinary Exhibition 2006-2007
October 11, 2006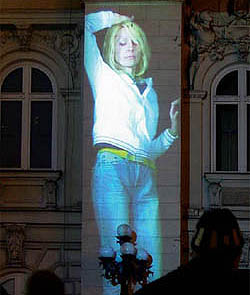 POZA - Real Art Ways Major Multidisciplinary Exhibition 2006-2007 curated by Marek Bartelik - OCTOBER 28 – JANUARY 29, 2007
Opening reception Saturday, October 28th, 6-9PM with performance by Kinga Araya, "Black Performance"

REAL ART WAYS
56 Arbor Street, Hartford, CT 06106
Gallery Hours: Tuesday-Thursday & Sunday, 2-10 PM; Friday & Saturday 2 PM - midnight. Closed Mondays.
Admission: Free to members, $3.00 suggested donation for non-members.
Bus from New York City for the opening & Directions

MAIN GALLERY
Azorro group
Frida Baranek
Anna Bialobroda
Anna Bella Geiger
Aneta Grzeszykowska and
Jan Smaga
Ewa Harabasz
Joanna Hoffmann
Jerzy Kubina
Zofia Kulik
Dominik Lejman
Joanna Malinowska
Jacek Malinowski
Gabriela Morawetz
Adam Niklewicz
Krystiana Robb-Narbutt
Ursula von Rydingsvard
Krzysztof Wodiczko
Pawel Wojtasik
Xawery Wolski

Krzysztof Wodiczko, Warsaw Projection, projection on the main facade of the Zacheta National Gallery of Art, 2005. Photo curtesy of Galerie Lelong, New York

REAL ROOM
"Art and Performance" October 19 - November 12
Kinga Araya
Monika Weiss
Krzysztof Zarebski

"Art and the Street" November 16 - December 17
Christian Tomaszewski
Karolina Bregula
Wojciech Gilewicz

"Art and the Net" December 21 - January 14
Karol Radziszewski
Maciek Toporowicz

The Polish word "poza" has a double meaning: "pose" or "posturing" (as one disguises his or her true nature for public display), and "beyond" or "besides". Writer Witold Gombrowicz once stated: "I know very well what kind of Polish culture I wish to have in the future… the weakness of the contemporary Pole resides in his "one-dimensionality" (more precisely in Polish, his "jednoznacznosc", or lack of complexity) and also – his onesidedness; therefore all effort should be made to enrich him with a second polarity – to complement him with another Pole, who is completely – extremely – different." (Diary, 1954) Curated by the Polish-born and New York based art critic and art historian Marek Bartelik, POZA will gather together works of 31 artists with roots directly or indirectly in Poland, and who currently live in Poland, the United States, Canada, France, and Brazil. The artists represent different generations – the oldest born in the 1930s, the youngest in the early 1980s. The works are divided between the main gallery, three accompanying exhibitions in the Real Room, and accompanying film programming. Works include painting, sculpture, photography, new media, video and site-specific installations and performances at Real Art Ways, as well as public projects located around Hartford and surrounding towns. In partnership with the Polish Studies Program at Central Connecticut State University, Real Art Ways is organizing accompanying programming including a film series, lectures, artist talks, discussions, and social events. The exhibition is supported by the National Endowment for the Arts, the Polish Cultural Institute in New York, Central Connecticut State University and the Trust for Mutual Understanding.