Governor Ed Rendell joined elected officials and Polish American Community representatives at the Pulaski Day Parade and Polish American Heritage Month Proclamation Program
September 29, 2006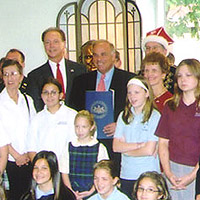 The Philadelphia area began its 73rd Annual Pulaski Day Observance on Wednesday, September 27th with a ceremony at the Polish American Cultural Center Museum at 308 Walnut Street in Historic Philadelphia.
Pennsylvania's Governor Ed Rendell presented Proclamations for both Polish American Heritage Month and the 2006 Pulaski Day Parade to representatives of the Polish American Congress. Thanks also to Philadelphia Mayor John Street, State Senator Vincent Fumo, Senator Michael Stack, Senator Shirley Kitchen and the Pennsylvania Senatorial delegation who provided additional proclamations and greetings. Pennsylvania State Representatives John Taylor and John Perzel extended greetings, and Philadelphia Council President Anna Verna in conjunction with Councilwoman Joan Krajewski, Councilman Frank Rizzo and Councilman Juan Ramos presented the City Council Citation. Philadelphia City Controller Alan Butkowitz also presented a Citation to Polonia. Former Philadelphia City Controller Jonathan Saidel presented his greetings and complimented the Polish American community for being outstanding Americans. Representatives of Senator Arlen Specter and Senator Rick Santorum participated at the program. In attendance were representatives of several Polish American organizations and veterans groups.

Program participants included Michael Blichasz, President, Polish American Congress, Eastern Pennsylvania District, Theresa Romanowski, Pulaski Parade Coordinator, Richard Klimek, 2006 Grand Marshal, Fr. Edward Kuczynski, PAC Clergy Committee, Fr. Krzysztof Mendelewski, Pastor, St. Valentine Church, Henry Cieplinski, Music Director and Richard Piascik who portrayed General Casimir Pulaski. During the program awards were presented to the winners of the PAC coloring contest which highlighted the first meeting of General Pulaski and Benjamin Franklin in 1777. Following the program refreshments were served compliments of the Museum volunteers.

The Officers of Polish American Congress thank all who attended the Proclamation Ceremony and invite you to attend the activities in conjunction with Philadelphia's 73rd Annual Pulaski Day Parade.