Polonia Congratulates Captain Christopher Ferguson
September 21, 2006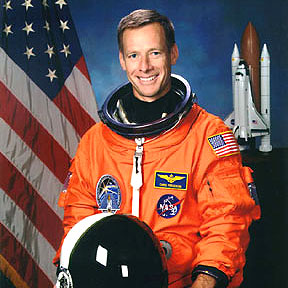 Foto: Archwium Polish American Center
The Polish American community proudly salutes NASA astronaut Christopher Ferguson (Captain, USN), pilot of the Space Shuttle Atlantis on its most recent mission and a Polish American with roots in Philadelphia.
Son of Ian Ferguson (deceased) and Mary Ann (Florkowski) Pietras, Captain Ferguson graduated from Archbishop Ryan High School and earned a B.S. in Mechanical Engineering from Drexel University and an M.S. in Aeronautical Engineering from the Naval Postgraduate School. Following extensive pilot training in a variety of schools, he attended the Navy Fighter Weapon School (TOPGUN) and later served as an instructor at the Naval Test Pilot School. Following deployments to the North Atlantic, Mediterranean, Indian Ocean, Western Pacific and Persian Gulf, Captain Ferguson was selected by NASA for the space program in 1998. After two years of training and evaluation, he was assigned to technical duties in the Astronaut Office Spacecraft Systems/Operations Branch involving the Shuttle Main Engine, External Tank, Solid Rocket Boosters and Shuttle Software. The crew of the Atlantis installed solar panels on the International Space Station to double the outpost's ability to generate power from sunlight.

We join the Ferguson, Cabot, Pietras, Florkowski, Gawronski and Jachimonowicz families in recognizing his accomplishments.