Build a retreat and pilgrimage center in Poland outside Krakow in memory of our late beloved Pope, John Paul II
September 20, 2006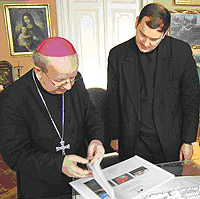 This project has the support of Cardinal Dziwisz, Archbishop of Krakow and former personal secretary to the Pope, and is being developed by the Legionaries of Christ.
With God's grace, it is our intention to raise sufficient funds and erect this worthwhile project as soon as possible. The Legionaries of Christ are presently working in Krakow with youth and families to develop a deeper faith in laity and hopefully many additional vocations for the Church. The Retreat Center will go a long way toward realizing these goals. Accordingly, I am asking you to consider a donation toward the completion of this project.

Your check should be made and sent to:

Legion of Christ
33 Rossotto Dr.
Hamden, CT 06514
Attn: Jim Jatcko

or

Zgromadzenie Księży Legionistów Chrystusa
Fortis Bank II O Krakow,
PL 84 1600 1198 0002 0023 1201 2001

Also, please write "Polish project – JP2 Retreat center" on the bottom or memo portion of your check.

If you would like more information about this project, please feel free to write me at:
Legion of Christ
Ul. F. Kopery 3
30-218 Krakow, Poland
Tel. 0048 12 4251037
e-mail: centrumjp2@gmail.com
Attn: Krzysztof Zdanowski


Thank you for your consideration of our request and may God bless you
and your family.