John Paul II & the Jewish People - Museum of Jewish Heritage
September 01, 2006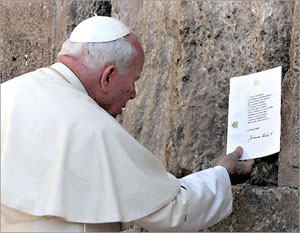 John Paul II
The Museum of Jewish Heritage - A Living Memorial to the Holocaust presents the exhibition: "A Blessing to One Another: Pope John Paul II and the Jewish People"; SEPTEMBER 6, 2006 - FEBRUARY 23, 2007
THURSDAY, SEPTEMBER 7, 7:30 P.M.
DISCUSSION: "John Paul II and Interreligious Dialogue" with panel of Catholic and Jewish Theologians in the Museum's Edmond J. Safra Hall, $5 all tickets, free for members.

Museum of Jewish Heritage - A Living Memorial to the Holocaust, 36 Battery Place, New York, NY 10280. Tel. 646.437.4200

As one of the world's most influential spiritual leaders for over a generation, Pope John Paul II used his papacy to promote tolerance, understanding, and dialogue among the world's different religions. In celebration of that legacy, this exhibition traces the life of Karol Wojtyla from his childhood in Poland through World War II and beyond, examining his enduring friendships with Jews, and how these relationships informed his ministry and papacy, significantly shaping the relationship between the Church and the Jewish people.

On September 7, the day after the exhibition opens, a panel of Catholic and Jewish theologians will reflect on the Pope's legacy and explore the changing relationships among faiths. The panel will include: Sister Mary Boys, Union Theological Seminary; Dr. Eugene L. Fisher, the Secretariat for Ecumenical and Inter-religious Affairs of the United States Conference of Catholic Bishops & Consultor to the Holy See's Commission for Religious Relations with the Jews; Dr. Carol K. Ingall, The Jewish Theological Seminary; and Rabbi Michael A. Signer, University of Notre Dame.