There are Many Reasons Why I Moved to Study in Poland...
Remigiusz Wałejko November 11, 2021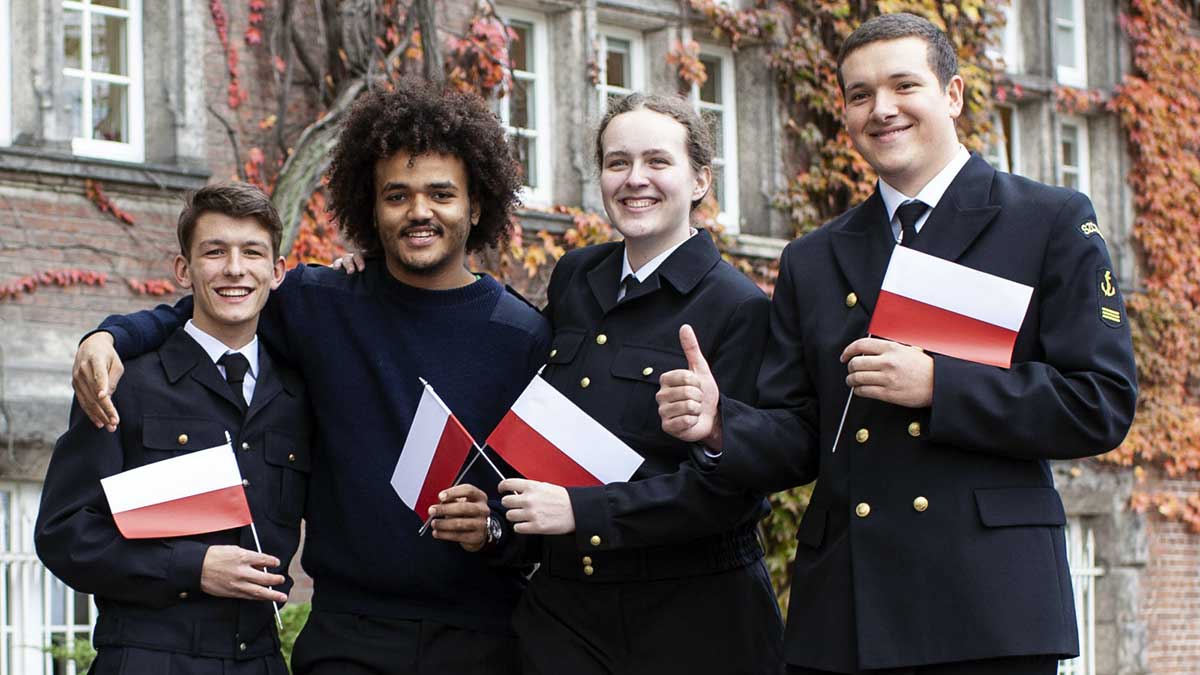 These days, we are celebrating regaining independence by Poland. It is undoubtedly the most important public holiday in Poland, celebrated also by the Polish community around the world. Today, on this occasion, we present to you 4 students with Polish citizenship who have spent almost all of their lives abroad. Now they have returned to Poland and are studying at Maritime University of Szczecin - Probably the best maritime university in the world!
Eryk Stochmal – he lived over 15 years in Scotland. Graduated from Jedburgh Grammar Campus. A passionate psychologist.
"There are many reasons why I moved to study in Poland, from the beautiful scenery, to the abundance of interesting personalities. But the thing that made me choose Poland over the entire UK when it came to studying, is the opportunity of meeting and getting to know people from many cultures under one roof. This is why I chose "Navigation in English", so that it allows me to both improve my polish and English skills, while still creating new friendships and learning cultures I've never met in my life before. This social interaction may seem small in comparison to all the other great possibilities AMS can offer, but for me its huge. This is because psychology is my passion, and meeting new people for me is fascinating. And what better place to do so than a world renowned maritime school."
Andrzej Jackson Dąbrowski – born and grew up in Nigeria, where he lived and studied until recently. His mother is Nigerian and father is Polish (he has dual citizenship). Graduated from Kingsville College in Abuja. He loves sport.
"Growing up in Nigeria is adventurous and filled with fun. My education so far, both primary and secondary, was in Nigeria. Studying in Poland is one of those things I was looking forward to because I have always longed to find my second identity - my second home. Why navigation? Honestly, I chose this programme because I wanted to do something different than an average person. I am glad that I am studying here at the Maritime University of Szczecin as it gives me not only the opportunity to do something pretty unusual in the future, but also the certainty that I will be the best at it. If I could choose any place in the world to be, I would definitely choose the Maritime University of Szczecin, which where my home now is!"
Carolina Jurczuk – she has Polish and Canadian citizenship. She grew up in Canada and graduated from Jules-Verne Secondary School in Vancouver.
"I was born and raised in Vancouver, Canada. I finished primary and secondary school in French. At home, I spoke Polish with my grandmother and I'd go to a Polish language school during Saturdays. We would travel to Szczecin every summer, because my mother comes from Szczecin and my father from Gorzów (they met in Vancouver). I thought about studying in Poland, but I wasn't exactly sure what subject interested me. Ever since I was little, I liked video games and learned a bit of simple programming myself. I was also curious about what was inside a computer so I disassembled one and replaced it's components. An acquaintance of mine had recommended the Maritime University of Szczecin to me, and I was intrigued by Mechatronics. I like the atmosphere at the faculty and the sense of humor of the students. :)"
Antoni Keszka - born in Szczecin, but lived in Germany all his life. He graduated from the Technisches Gymnasium in the field of electrical engineering at the Berufskolleg des Kreises Kleve in Geldern (North Rhine-Westphalia). A passionate sailor.
"Choosing a graduation class profile in my secondary school, I was thinking about either economics or electrical engineering and machine construction, but eventually I chose electrical engineering. However, after graduation, I still wanted to study economics in Utrecht, the Netherlands, but I wasn't sure if it was a good choice for me. I preferred something more tangible. It seemed to me that the A-level exam in electrical engineering passed at a higher level would rather be a better foundation for technical studies. After graduating from high school, just out of curiosity, I checked on the Internet what study programmes were available in English in my hometown. I must say that since my childhood I have been sailing with my parents and I love the sea. And it turned out that in Szczecin I can study navigation in English. So the choice was simple - I decided to go to the Maritime University of Szczecin, and now I'm already in the third year of my studies."