The Consular Department of the Embassy of the Republic of Poland in Washington, D.C. will Resume Accepting Visa Applications
July 25, 2020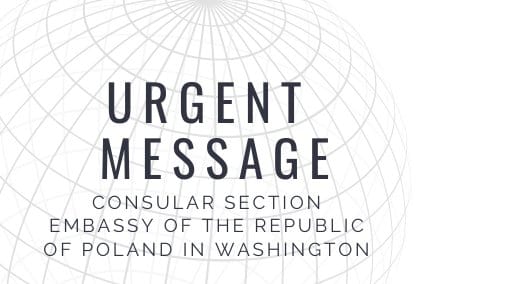 Given the gradual lifting of restrictions imposed by the authorities of the District of Columbia with regards to the COVID-19 pandemic, the Consular Department of the Embassy of the Republic of Poland in Washington, D.C. will resume the issuance of D-type national visas, effective August 3, 2020.
Appointment registration will take place exclusively via the following online portal: www.e-konsulat.gov.pl.
Due to sanitation requirements and the obligation to maintain social distancing, we kindly ask that you arrive on time for your visit. Tardiness will result in being unable to attend your interview and submit your application.
If you live in a state that is located far away from the Consulate, please contact us by email to determine if you may submit your visa application by mail. Each case will be considered individually. In your request, please indicate the purpose for which the visa is to be issued and provide a telephone number by which you may be contacted. 

During your visit, please:
• wear a mask or other mouth and nose covering throughout your visit. You will be asked to temporarily remove the covering for identification;
• arrive at the Consulate without accompanying individuals (excluding persons accompanying minors or the disabled);
• disinfect your hands before approaching the "window" (a container with disinfectant liquid is available at the entrance to the office);
• bring your own pen for signing documents.
Persons entering the office will have their belongings subject to search in accordance with standard safety protocols and will be asked to allow the security officer to measure their temperature.
All visa applicants are requested to prepare their documentation very carefully before arriving at the office: https://www.gov.pl/web/usa-en/d-type-national-visa. The fee for accepting and processing an application for a national visa is USD 90; payments are accepted only in the form of a money order or cashier's check. Passports will be sent by mail - an additional fee of USD 13 applies.