What is a Pączki?
Aundréa Cika, OH February 16, 2020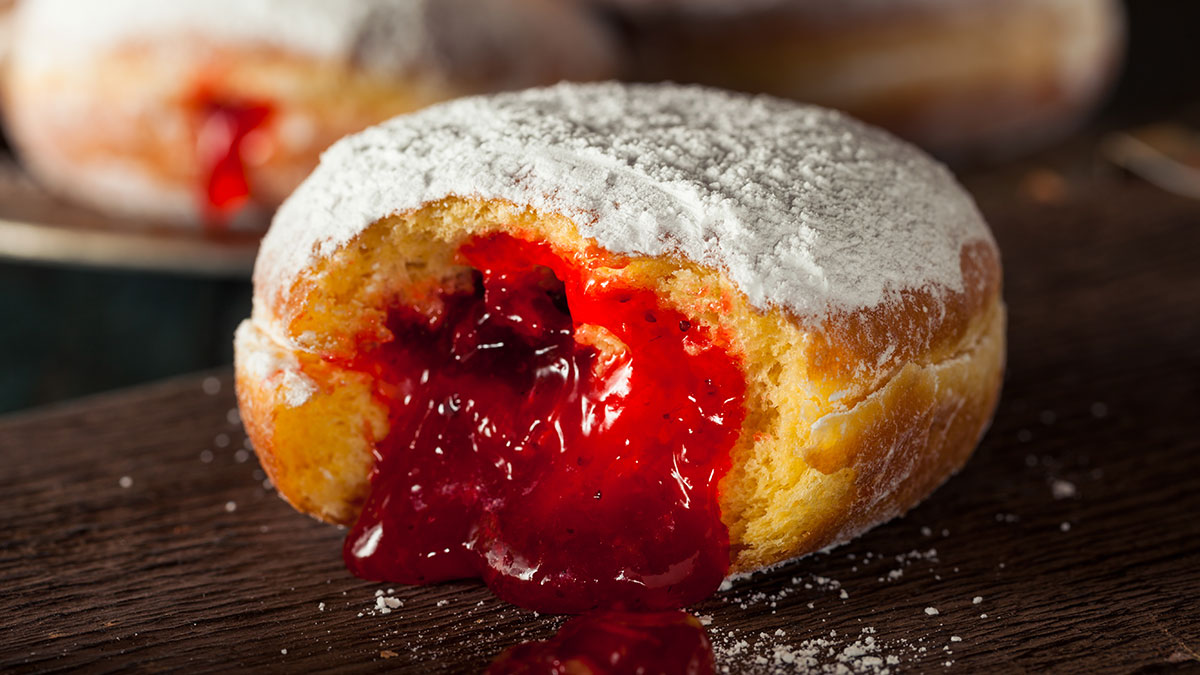 They are very rich donuts, deep fried and then filled with fruit or cream filling and covered with powdered sugar or icing. Eating pączki is the traditional Polish way to indulge before the fasting in observance of Lent begins on Ash Wednesday. Although they look like jelly doughnuts, pączki are made from especially rich dough containing eggs, fats, sugar and sometimes milk. Traditionally, a small amount of Spiritus grain alcohol is added to the dough before cooking; as it evaporates, it prevents the absorption of oil deep into the dough.
According to The Polish American Journal, In Old Poland, the zapusty or "carnival season" reached its height during this period. Elegant balls were held in well-to-do manor houses, attended by young men, women and their parents. Country-folk, on the other hand, would make merry, drink, dance and flirt at the village inn. The rich would feast on fancy hors d'oeuvres, roast game, and fine wines. Peasants enjoyed their zimne noge (jellied pig's knuckles), kiszka (blood and groat sausage), and kielbasa z kapusta (sausage and cabbage), which they washed down with beer and gorzalka, the least expensive vodka available. Common to both groups, however, were pączki, which were consumed in huge quantities.
In the United States, Pączki Day was always popular in the Polish communities from the beginning of the 20th century. Polish immigrants settled in different parts of the U.S., such as Detroit, Baltimore, Chicago, Buffalo and especially Hamtramck, where the Polish bakeries would have pączki for sale on Fat Tuesday morning.
Recently, Pączki Day has expanded as more people have heard about this Polish tradition and want to become a part of this tasty holiday. Wannabe pączki can be found up to a month before Fat Tuesday in almost every food store: Deli, grocery and bakery. People just cannot pass up a delicious food holiday and Pączki Day can be considered one of the best.
Hamtramck, Michigan is considered the pączki capitol of the world. Each year they add music, dancing and celebrating to their pączki process.
It's Pączki Time and PolishYoungstown is excited to invite you to celebrate Carnival season in a festive POLISH fashion by joining us for our 10th Paczki Sale – a portion of each dozen sold goes to benefit PolishYoungstown's youth, education and travel grant programs!
This year we are excited to say we have EXPANDED OUR PACZKI OFFERINGS!
NEW THIS YEAR - Pączki Palooza.
Thursday February 20 thru Tuesday February 25 @ all Plaza Donut locations.
WHY THE EARLY START? While the practice of Pączki Day is traditionally observed the day before Ash Wednesday in the United States, in Poland, Pączki sales are the highest on Tłusty Czwartek, or "Fat Thursday." (The Thursday before Ash Wednesday). This day marks the start of the final week of the pre-Lenten celebrations.
Traditionally, Lent was 40 days of fasting: meaning one meal a day and full fasting on Friday. Any rich foods were not allowed. The Tuesday before lent, people of Poland used up food so that it would not be spoiled or wasted. Families would use up their eggs, butter and sugar and fruit by treating themselves one last time before Lent began with these rich donuts. This tradition was started in the medieval age during the reign of August III.
Aundrea Cika Heschmeyer
Director, PolishYoungstown
Your source for all things Polish in the Mahoning Valley
www.polishyoungstown.org