How to Make the Perfect Uszka and Borscht for Christmas Eve Dinner - Recipe
December 17, 2019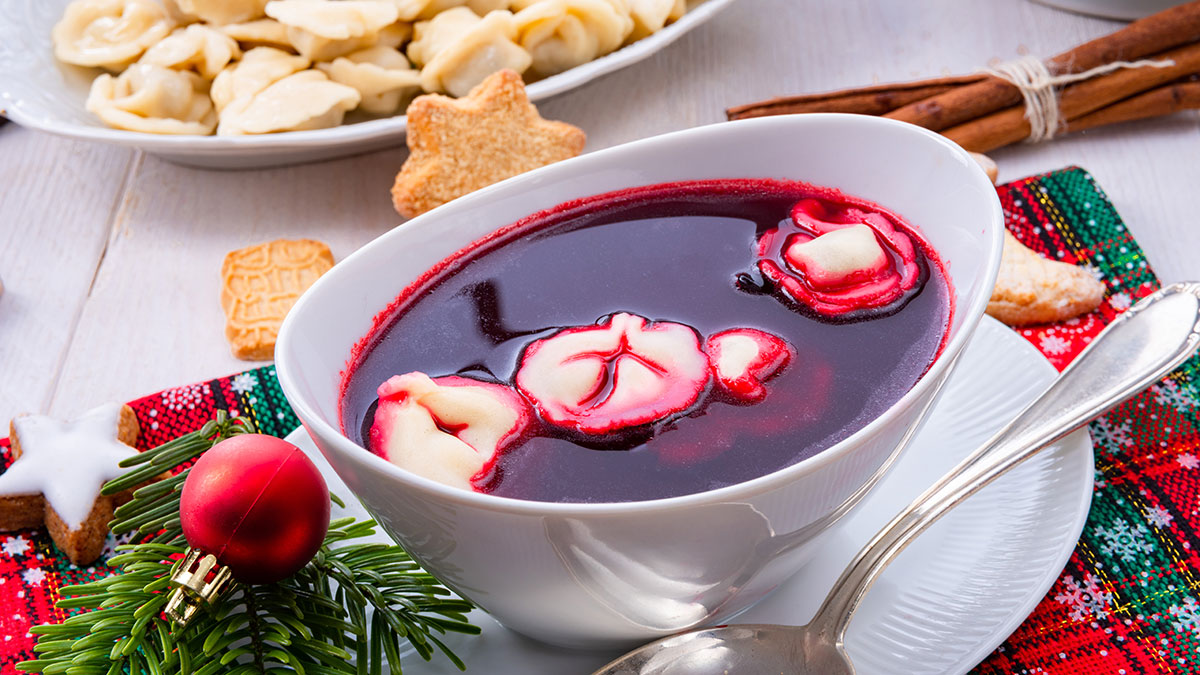 A Polish Christmas Eve dinner is made up of twelve dishes, many being labor-intensive and time-consuming. Kicking off the first of these dishes is a Christmas staple: borscht with uszka.
Affectionately called 'little ears' in English, or 'uszka' in Polish, this miniature Christmas pierogi is closer in shape and size to Italian ravioli than a regular pierogi. In fact, Polish cooks do not consider uszka to be in the same family as their larger counterparts. Filled traditionally with minced meat or vegetables, the Christmas uszka and borscht are almost always filled with mushroom and sauerkraut and never served alone, but with clear or red beet borscht. Borscht, a little-known Polish superfood, is a deliciously seasoned beetroot broth that is packed with nutrients, low in calories, and aids with digestion, brain health and weight loss.
How to make it, you ask? A newly opened Polish restaurant taking over the Greenpoint neighborhood, Pierozek is dishing out classic Polish dishes with tradition at the forefront of its cooking. Enlisting the help of Marzena Gęsiarz and Zofia Kuśmierska, famous chefs from Częstochowa, Poland, owners Alexandra Siwiec and Radek Kucharski are serving their highly coveted and closely-guarded recipe for uszka and borscht to a widely-known Polish enclave of New York. Recipes are bible at Pierozek, but they have been kind enough to reveal a few of their secrets.
Uszka & Borscht 
Borscht Ingredients

Beets - 5 lbs
1 Cup Vegeta Seasoning
6 Garlic Cloves
3 Bay Leaves
Instructions

Mix beets, vegeta seasoning, garlic and bay leaves in a large pot. Fill with water until the mixture is just covered, and steep for 3 days. After 3 days, cook on low heat until warm. 
Uszka Ingredients:
Dry Porcini Mushrooms
Fresh Baby Bella and/or White Mushrooms
Yellow Onion
Butter
Flour
Water
Milk
Salt
Pepper
Instructions

Mushroom Filling: Place dry porcini mushrooms into a pot and cover with water. Bring to boil and cook mushrooms for about an hour. Once cooked, you need to use a slotted spoon and gently remove them from the boiling water. Dry mushrooms tend to be very dirty, so this is an important step. Most of the dirt and sand will settle at the bottom of the  pot,  but  you  should  also  move  the  mushrooms  into  coriander  and  wash  them  thoroughly under running water. Once cleaned, set them aside.
Step 2:  In  a  frying  pan,  heat  up  some  butter  and  add  chopped  onions.  Cook  until  translucent. In the meantime, clean and slice your fresh mushrooms. Add mushrooms to the onions, season with salt and pepper, and cook for about 15 minutes until soft and fully cooked. 
Step 3:  In  a  food  processor,  combine  cooked  dry  mushrooms  with  sauteed  fresh  mushrooms and pulse a few times. Check for seasoning, add salt and pepper to taste. Pulse  a  few  more times. Do not over-process the mushrooms! You want to have little  pieces of mushroom in the filling, not a paste. Set aside. 
Dough: Attach dough hook to your mixer. Add flour into the bowl. Add melted butter and warm milk, start mixing on low speed.   
Step 2: Start adding warm water a little bit at a time. For 3 cups of flour, you should use ½  cup of milk and approximately  ¾  cups  of  water.  But  sometimes  the flour absorbs  more moisture and you will need to add more water. In the end, your dough should be elastic and not sticky to the bowl. 
Step 3: Cover the bowl with plastic wrap and let rest for 30 minutes. 
Step 4: Divide your dough into four pieces. Flour your working surface and place ¼ of the dough on it. Cover the rest of the dough with plastic wrap. Using a rolling pin, roll out the dough until it's thin but not see-through. 
Step 5: Cut dough into 2-inch squares. Place a spoonful of the mushroom filling on each square. Moisten two edges of the dough with water and fold in half to form a triangle, pressing out any air. Dab one of the points with water and lap the other point over and press  them  together.  It  will  look  a little like a tri-cornered hat. Repeat with remaining  dough.
Step 6: Drop uszka into boiling broth or water and cook 10 minutes or until tender when tested.
Final Step: Add uszka to warm borscht and serve, enjoy!
More on: https://www.pierozekbrooklyn.com/