Pac wraps up Brooklyn - voter drive in Sunset Park
August 06, 2008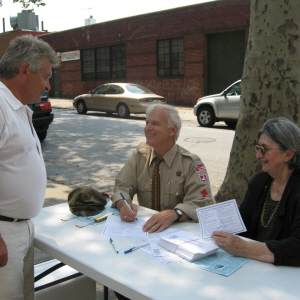 Photo by Polish American Congress
Determined to extend its 2008 Voter Registration Drive beyond the limits of New York City, the Polish American Congress put the finishing touches on its local campaign with a visit to Sunset Park's Our Lady of Czestochowa-St. Casimir's Church.
Shown at the registration table above are committee members (from front to back) Andrew Kaminski; Co-Chair of the Children of Polish Christian Holocaust Survivors; Voter Registration Chairman Chris Rybkiewicz and Frank Milewski, PAC Pres. In the background (right) is Rev. Dariusz Blicharz, Parochial Vicar.
 
With the conclusion of its voter registration efforts in Brooklyn and Staten Island, the Congress will next be concentrating on Manhattan,
Queens and the rest of Long Island.

Registering voters on the other side of the church were (seated): Zygmunt Bielski, Scoutmaster of the Polish Scouting Organization Harcerze and Frances X. Gates, International Director of the Polish Singers Alliance of America.