Pac Notes Kosciuszko's Revolutionary War contributions in New York state
April 01, 2008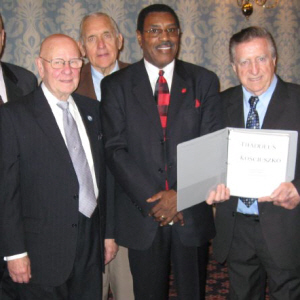 New York State Assemblyman William Scarborough (2nd from right) hosted a delegation from the Downstate N.Y. Division of the Polish American Congress at an event honoring him at Antun's of Springfield Gardens, N.Y.
Shown with Assemblyman Scarborough are PAC officers (from left): Vincent Brunhard, Jr., Executive Vice President; Chris Rybkiewicz, Vice President; Richard Brzozowski, Secretary; Frank Milewski, President; Assemblyman Scarborough and Chet Szarejko, Chairman of the PAC's Political Activities Committee.
 
Mr. Szarejko holds a copy of a proposed curriculum guide the Congress hopes can be utilized by the secondary schools of New York State. It features the contributions of General Thaddeus Kosciuszko, the Polish hero who fought in America's War of Independence.
 
Many of General Kosciuszko's military successes were achieved in New York State.  His engineering skills were instrumental in the victory of the Colonial Army over the British at the Battle of Saratoga which was considered to be "the turning point of the American Revolution." His fortification of West Point was another example of his military genius.
 
Contact:  Frank Milewski
(718) 263-2700 - Ext.105
Note to Editor:  Attachment with this release is the above photo.