Polish and Other International Students Travel to Leadership Camp in New York State
September 03, 2007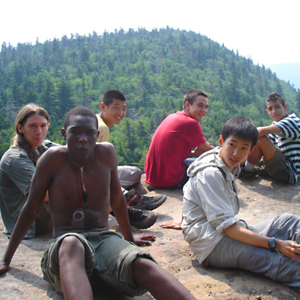 A group of campers resting on the top of a mountain in the middle of a four-day hike
BY MARCIN SKOK:

Every year, dozens of teenage students are selected to spend eight weeks with each other in a safe, but expansive environment, where they are encouraged to interact with others, and try out new projects and ideas to help expand and improve their community.
The camp is located in Rhinebeck, New York. It was started as an experiment by George Edward Jonas, and wars called Camp Rising Sun. It focused on boys from the US.  The program gained an international focus shortly after World War II including international campers into the program.  In 1989 a program for girls was started in Clinton, New York. These, and other similar programs around the world, are still fulfilling their mission. Students range from 14-16. Each year, approximately 60 girls and 60 boys attend the New York programs. This year approximately thirty campers were picked from the United States, and another thirty from all over the world, including countries such as Brazil, Peru, Zambia, Denmark, Hungary, Netherlands, France, Germany, Spain, Greece, Norway, South Africa, China, Japan, South Korea, Israel, Palestine, Iran, and many more. Among these participants were several Polish representatives, including Wojtek from Gdańsk, Pawel from Sosnowiec, and Marcin (New York), a Polish-American whose parents came to America in the early 1990s

Once at camp, campers realize what a strange situation and place they've been put in. Living in a place for eight weeks with 60 people from around the world they've never seen is enough to unnerve and alienate anyone. However, you soon realize what an amazing place CRS is. People talk to each other; they get involved in projects around camp. These projects this year included creating shoe racks, cleaning up the wood shed, repainting the exterior of the art shack, recreating a Shakespearean play, shooting a short action movie, preparing national food, and many, many more. They teach and learn from instructions given by professors and even other campers. A variety of topics, ranging from the literal, to the political are taught. Every week, people are assigned squad works where they are instructed and encouraged to clean up and organize different parts of camp. After a while, brotherly bonds develop between campers. People are more open, and are better able to explain and express thoughts and opinions. Everybody listened to each other, learned about their lives and experiences. Many alumni of the camp describe it as a life-changing experience.

Camp Rising Sun is hosted by the LAJF organization, and occurs every year for 8 weeks from the end of July to the end of August. It is open to campers from all over the world, regardless of country.



MARCIN SKOK, Camper 2007,
contributed reporting from Stuyvesant High School (NYC, New York) "Spectator" bi-weekly

More info at: http://en.wikipedia.org/wiki/Camp_Rising_Sun