An homage to Karol Szymanowski at Merkin Hall
March 23, 2007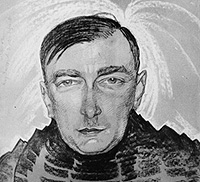 Stanisław Ignacy Witkiewicz (Witkacy)
ANNA KIJANOWSKA, SHARON ROFFMAN, AND IRIS JORTNER PERFORM THE MUSIC OF POLAND'S REVERED MODERNIST COMPOSER Stanislaw Ignacy Witkiewicz (Witkacy), Karol Szymanowski, 1931, pastel, National Museum, Krakow
THURSDAY, MARCH 29, 8 PM

MERKIN CONCERT HALL at Kaufman Center Goodman House 129 W. 67th Street(bet'n Bdwy and Amsterdam), New York, NY 10023 Subway 1 to 66th Street; Buses: M5, M7, M11, M66 and M104.
Tickets: $20; Students $15, at. 212-501-3330 or online

The music of Karol Szymanowski (1882-1937), one of the great composers of the 20th century, regarded by many as the father of modern Polish music, and deemed by some, like Arthur Rubinstein, to be second only to Chopin among Polish composers, will be performed by Polish-born pianist Anna Kijanowska, who has achieved international recognition for her interpretations of Szymanowski's works. The two outstanding performers appearing with Kijanowska are Sharon Roffman, violinist, a protégége of Itzak Perlman, and Iris Jortner, cellist, a founding member of the Tel Aviv Quartet. The combined artistic talents of Roffman and Jortner, along with Kijanowska's "stylistic perception and technical mastery" (Jed Distler, Classics Today, 2006) promise an enlightening and inspiring performance of Karol Szymanowski's works.

The program will feature works representative of Szymanowski's three stylistic periods, which can be described as late Romantic, impressionistic, and mature. This latter period is marked by the influence of Polish Highlander folk music, and is also known as his "New Objectivity" period. This year marks the 125th anniversary of the composer's birth and the 70th anniversary of his death, providing a unique opportunity to celebrate the astounding achievements of his life and career.

Program:
Szymanowski: Sonata op. 9 in D minor for violin, transcribed for cello by Kazimierz Wilkomirski;
Myths op. 30 for violin and piano; Piano Mazurkas op. 50 and 62 (selections)

Kijanowska's performances are a revelation – Phil Muse, Classik Reviews, 2006

I cannot talk objectively about Szymanowski, for you cannot expect objectivity or reasonability from someone in love – Maestro Simone Rattle

Presented by the Polish Cultural Institute Generous support for An Homage to Karol Szymanowski has been provided by the Kosciuszko Foundation, Inc., An American Center for Polish Culture, which also supported Anna Kijanowska's "Szymanowski.
Mazurkas ops. 50 & 62" recorded by DUX, 2005.