Fower of Silence
March 14, 2007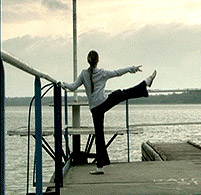 Fower of Silence - documentary portrait of deaf-mute dancer by Magda Batorska featured in newfilmmakers series.
WEDNESDAY, MARCH 21, 2007
7 PM (but see below)
Anthology Film Archives
32 Second Avenue (on 2nd St.), New York, NY 10003
(212) 505-5181
Directions: #6 to Bleeker St. or F to 2nd Ave.

For sale of tickets @ $5 see below! Magda Batorska has brought a decade of professional experience in all aspects of television production, and a sensitive eye and ear, to this very personal and moving 50-minute video portrait of an 18-year-old deaf-mute village girl at a crucial moment of choice between a career as a baker and a chance to become a professional ballet dancer, the first deaf one in Poland. The film was selected by the Brussels Independent Film Festival and the Summer of Films in Torun. Preceding it on the same program, Newfilmmakers Welcomes the Digital Film Academy in New York, is the 5-min. I Forgot My Name, by Matthew Cox, and B.J.Meyer's 3-min. At a Precipice. Since 1998 the NewFilmmakers Series has shown over 400 features and 1500 shorts, many overlooked by traditional film festivals.

The film is presented at Anthology at 7 PM as part of the NewFilmmakers Winter 2007 series on Wednesday evenings, which includes the category "Mocks, Docs, and More" at 6 PM (5 films) and a Special Digital Film Academy Program of student shorts at 8 PM. TICKETS: One $5 ticket covers admission to all three shows. But since tickets are sold at the Box Office starting 30 minutes before the day's first show, to be sure of getting a seat for the 7 PM showing of Flower of Silence, it would be best to purchase the ticket before 6 PM.