Bishop Robert Brennan Reconsecrates Catholic Church Desecrated Earlier this Week in Astoria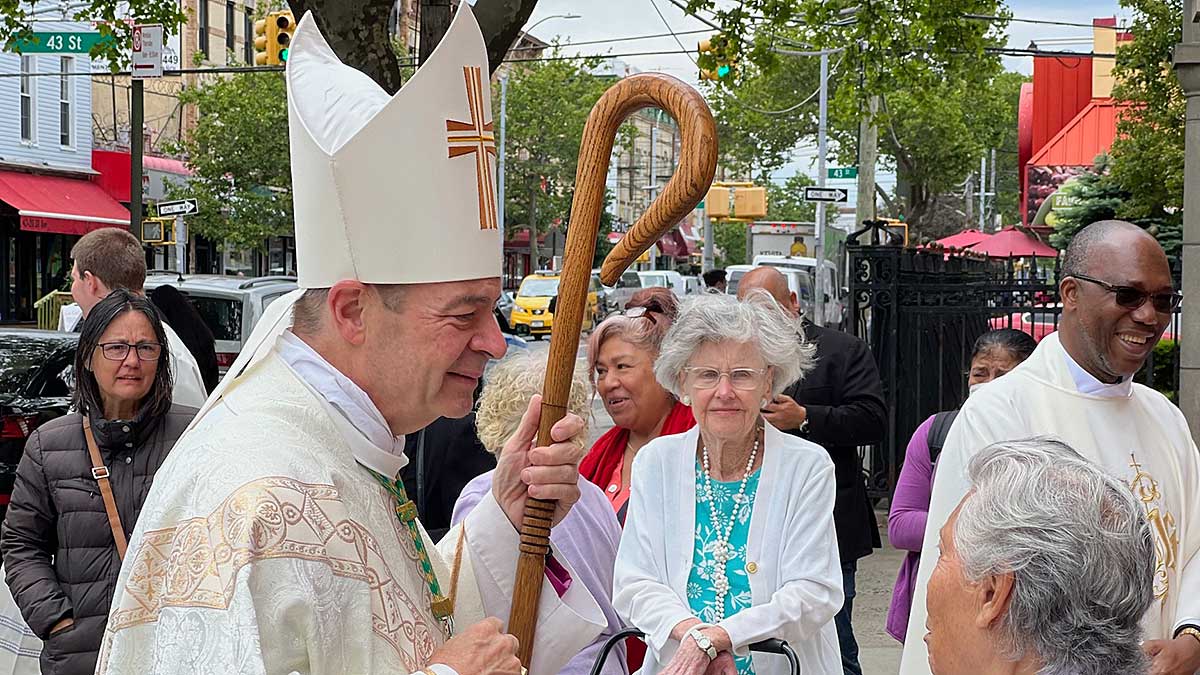 Bishop Brennan Greets Faithful at St. Joseph. Photos / Video: The photos attached, and the video, Courtesy of John Quaglione / DeSales Media
Bishop Robert Brennan offered a Mass of Reparation at St. Joseph Roman Catholic Church in Astoria at Noon, June 9, 2023 following an act of religious desecration and vandalism that happened inside the church on Monday, last week.
Bishop Brennan led the parish in prayers for the Penitential Rite and blessed the altar, the prayer chapel, the walls, and the faithful with Holy Water. The altar which remained bare since the incident was decorated during the Mass.
"We come here today with a sense of sorrow, with a sense of pain because of what happened at this Church, but also with a sense of hope. We pray this man may be shown God's mercy and find the help he needs," said Bishop Robert Brennan.
"When terrible things like this happen, God has a way of using them as an opportunity for renewal. Today's Mass of Reparation was a chance for St. Joseph's parish community to be renewed in faith in the wake of the disrespect shown to Jesus Christ. God always brings good out of the evil things that occur," continued Bishop Brennan.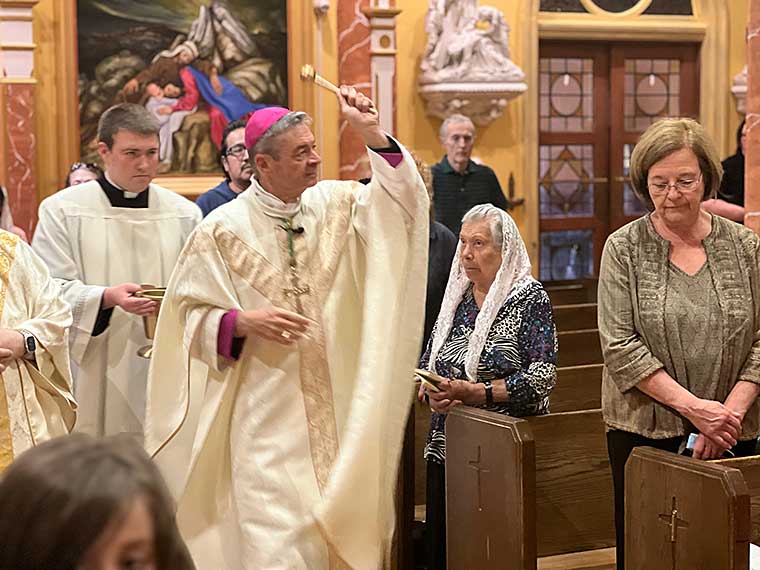 Bishop Brennan Blessing the Faithful
The acts were serious and offensive enough to the sanctity of the church building that divine worship has not been permitted since Monday evening. The clergy, including the pastor, Father Vincent Chirichella, welcomed parishioners and students from St. Joseph Catholic Academy at the Mass.
St. Joseph Roman Catholic Church is located at 4319-30th Avenue in the Astoria section of Queens.
* * *
Details of the desecration from Monday, June 5, 2023
At approximately 8 p.m., a 21-year-old man entered the church rectory through an open door, left open for access to the parish's Adoration Chapel. The man destroyed framed photos of Pope Francis and Bishop Robert Brennan and continued to the basement where he spread paint thinner on the floor. He then re-entered the chapel sacristy and dressed in priestly vestments.
A parish priest found the man when he arrived to lock up the chapel. He was violently hitting himself in the head with a Monstrance, a religious vessel used to display the Blessed Sacrament, cutting himself and bleeding on the Monstrance and the vestment. He then ran into the main sanctuary, down the center aisle onto the altar, opening the Tabernacle and throwing the consecrated hosts onto the floor.
The pastor immediately called the police and officers from the 114th Precinct responded quickly. The man was placed in handcuffs and removed by NYPD officers. He was released from police custody to Elmhurst Hospital where he underwent an evaluation.
SPONSORED ARTICLE
For the most up-to-date information, please contact the company directly.
The photos contained in the article serve only as an illustration of the article.