Bishop Brennan Leads Palm Sunday Processions in Brooklyn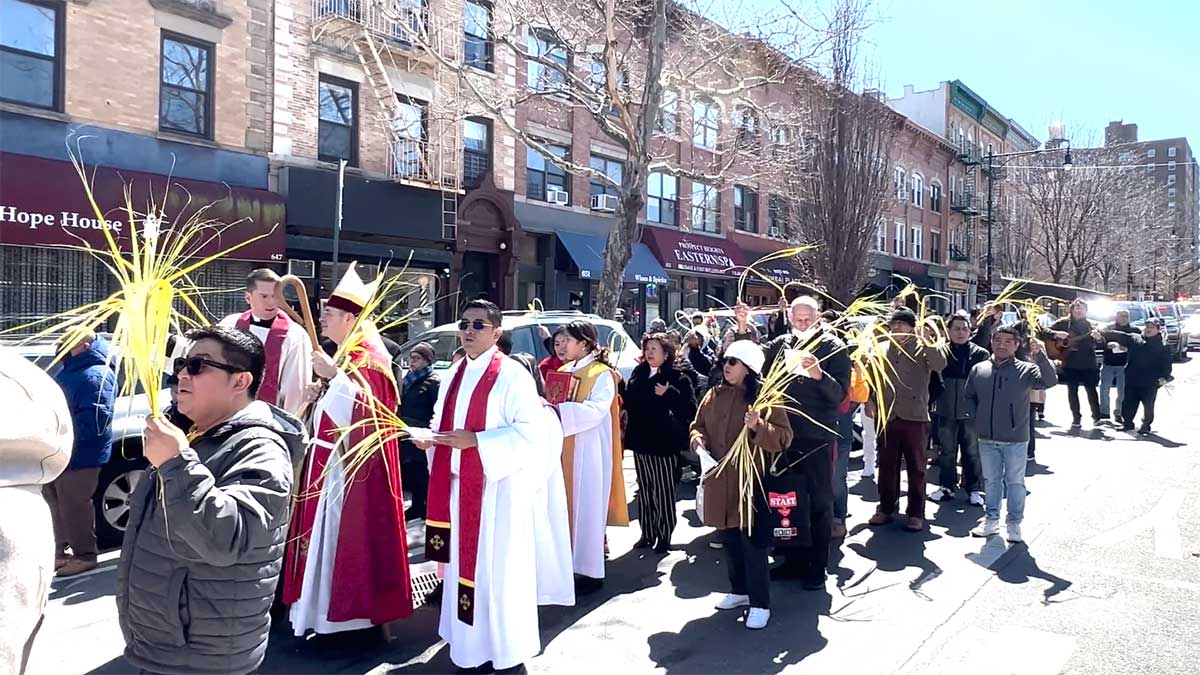 Bishop Robert Brennan began Holy Week with a special Palm Sunday Procession in Spanish at 12:30 p.m. today at Grand Army Plaza in Prospect Heights, Brooklyn. After an opening prayer and the blessing of the palms, Bishop Brennan led the pilgrims in procession down Vanderbilt Avenue to the Co-Cathedral of St. Joseph, located at 856 Pacific Street. (Video below)
Palm Sunday commemorates the triumphant entrance of Jesus into Jerusalem, where those who greeted Jesus waved palms and set them on the ground along His path. Palms are recognized as a symbol of victory and peace.
"We have begun Holy Week here on the streets of Brooklyn imitating the crowd that cried out to the Lord in the holy city of Jerusalem: processing through the streets, welcoming him with songs of praise, 'Hosanna! Long live the Son of David! Blessed is he who comes in the name of the Lord! Hosanna in heaven! Now we contemplate the deepest mysteries of our faith: the passion, death, and resurrection of Jesus, and his gift of life, given for us in the Eucharist,'" said Bishop Robert Brennan.
At 4 p.m. today, Bishop Brennan will lead a Nazarene procession with the Venezuelan community, with the carrying of the Cross. After catechesis and prayers at St. Michael-St. Malachy, located at 237 Jerome Street in East New York, Brooklyn, the procession begins and makes its way toward St. Gabriel's at 749 Linwood St, also in East New York.
PALM SUNDAY PROCESSION VIDEO - PROSPECT HEIGHTS, BROOKLYN
:00 Bishop Brennan blesses the palms at Grand Army Plaza
:08 Procession leaves Grand Army Plaza
:50 Procession along Vanderbilt Avenue
2:09 Procession arrives at the Co-Cathedral of St. Joseph for Mass
SPONSORED ARTICLE
For the most up-to-date information, please contact the company directly.
The photos contained in the article serve only as an illustration of the article.