LIVE Special Coverage of the Funeral of Pope Benedict XVI, 2:30am, 01.05.22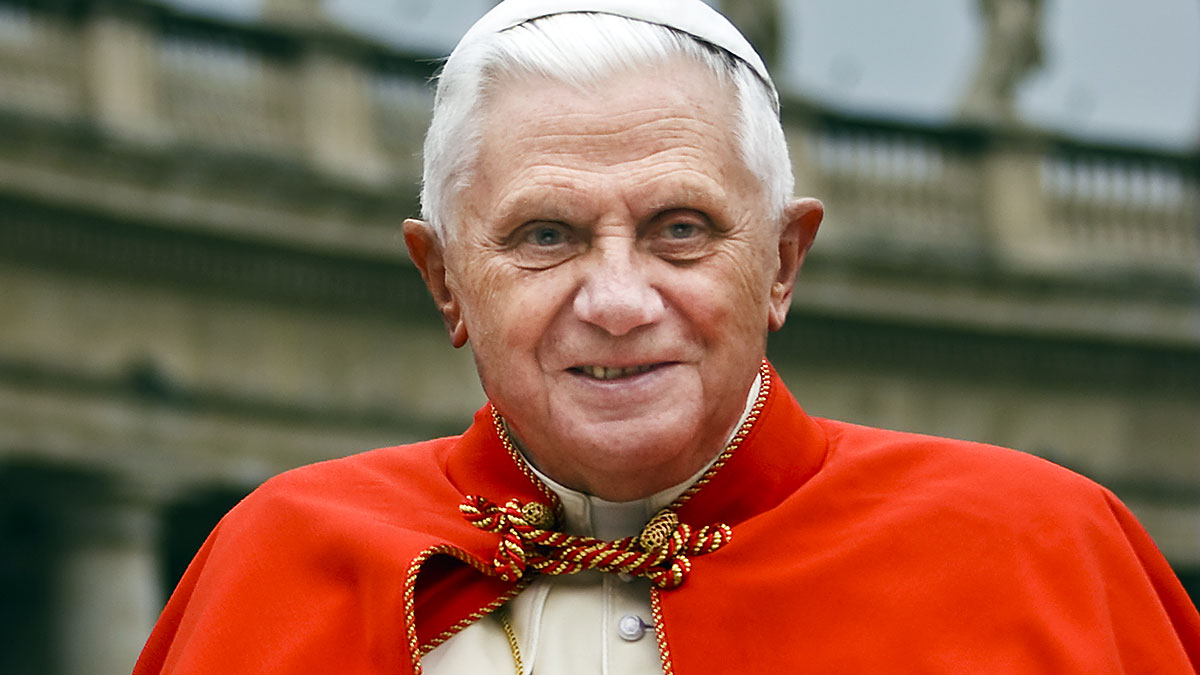 Pope Benedict XVI born Joseph Alois Ratzinger on April 16th 1927 was the 265th Pope. St Peters Square November 14 2007. Photo: HixnHix
Bishop Brennan's Weekly Podcast Reflects on Benedict's Legacy. NET-TV, the Diocese of Brooklyn's cable channel, will provide live special coverage of the funeral of Pope Benedict XVI on Currents News, including analysis and commentary beginning at 2:30 a.m. (EST), Thursday, January 5, 2023.
Christine Persichette, anchor of Currents News, will lead the team coverage along with Father Frank Tumino, and Ed Wilkinson, Editor Emeritus of The Tablet in studio. NET-TV can be found on Channel 97 on Spectrum, Channel 30 on Optimum, and Channel 548 on Fios.
The coverage and Mass will also be live streamed on the NET website at netny.tv
Later in the day, at 12 p.m., the Diocese of Brooklyn will offer a Requiem Mass in honor of the late Pope Benedict XVI, at the Cathedral Basilica of St. James, located at 250 Cathedral Place in Downtown Brooklyn. Auxiliary Bishop Neil Tiedemann will serve as the main celebrant of the Mass. The clergy and public have been invited to attend. Press coverage is invited and welcomed. A Requiem Mass is a Mass of the Catholic Church offered for the repose of the soul of a deceased person using a particular form of the Roman Missal.
Additionally, in this week's episode of Bishop Robert Brennan's podcast "Big City Catholics," the bishop, along with co-host Father Christopher Heanue, the Rector of the Co-Cathedral of St. Joseph, offered reflections on Pope Benedict XVI including his visit to New York City in 2008 and encounters with him.
Excerpts from the podcast are below with time codes.
11:12-11:35: "What we needed in the time of Benedict was a certain sense of deepening that faith, of getting to know the mystery of God. Coming to know Jesus as a person. You see, as you said, his last words; "Jesus, I love you." Wow, that just says so much because I think that sums up his mission. It wasn't about intellect. It was to get to know Jesus, really to know Jesus. If you read his writings, that's what it's about." - Bishop Robert Brennan.
18:21-1841: "Two other things I wanted to point out in his visit to Dunwoodie. One is you know the name Benedict; he took that from Benedict XV who was a Pope during a time of war, and that sense of peace, that working for peace was so incredibly important to him. When he spoke, he said that my own years as a teenager were martyred by a sinister regime that thought that it had all the answers." – Bishop Robert Brennan
18:49-19:05: "And he spoke about how that sinister mentality, that group, the Nazis, how they would affect you. That had a profound effect on his life growing up under Nazi Germany. That always stayed with him, as he called for peace, and he chose that name Benedict."- Bishop Robert Brennan
To listen to the podcast in its' entirety, click here:
Big City Catholics Episode 28 – The Life and Legacy of Pope Benedict XVI
https://podcast.dioceseofbrooklyn.org/podcast/episode-28-the-life-and-legacy-of-pope-benedict-xvi/
"Big City Catholics" is available on popular podcast platforms, including Apple, Spotify, and YouTube, or on the Diocese of Brooklyn website, podcast.dioceseofbrooklyn.org
SPONSORED ARTICLE
For the most up-to-date information, please contact the company directly.
The photos contained in the article serve only as an illustration of the article.