"For The Ukrainian Children", 'Eagle-2' Funds Are Being Collected to Buy Polish Drones for Ukraine
Mateusz Kaczyński July 27, 2022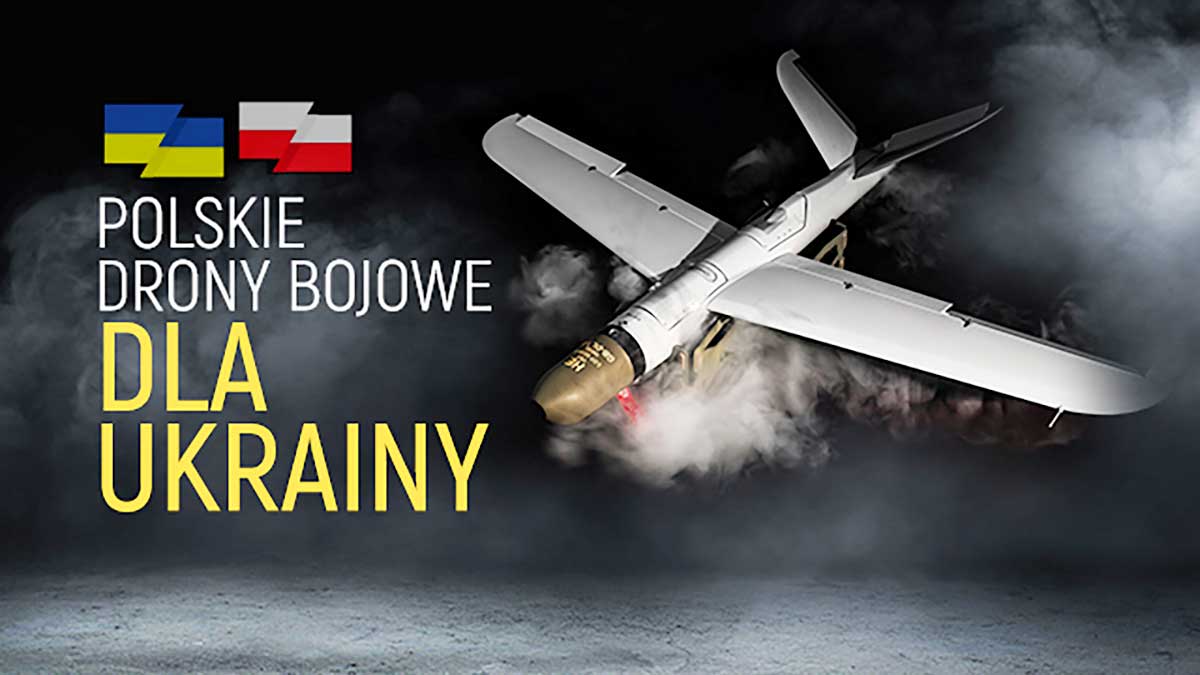 We have started fundraising to buy Polish Warmate loitering munitions for Ukrainian soldiers. The fundraising is available on Polish website pomagam.pl
Only in few days we have collected 700,000 pln. The first drone was named 'FOR THE UKRAINIAN CHILDREN' to commemorate all the civilian casualties of the Russian invasion.
The public fundraising was launched as an act of resistance against Russian aggression and a leap of faith in social solidarity. Its purpose is to support Ukraine with help from the Polish defense industry. We are ordinary citizens but we believe it is our responsibility to help Ukraine as this war concerns our common security.
The aim of the fundraising is to collect 4 000 000 zł to buy a set of 20 drones (Warmate loitering munition) and its ground control system with a configuration preferred by Ukrainian part. As officially declared by the manufacturer, WB Group, when the fundraising is finalized, they will take care of transportation and formalities connected with handing over the weapons
Each purchased drone is going to have its own special name. As suggested by one of the organizers, the first Warmate is going to be named 'For the Ukrainian Children' ("Za dzieci Ukrainy") and the second an 'Eagle' ("Orzel"). The latter has been chosen by the votes of fundraisers. We hope they will bravely serve Ukraine and its defenders!
Although launched only few days ago, our fundraising has already been supported by many famous experts on Polish defense system and celebrity: Jarosław Wolski, Kapitan Lisowski, Piotr Zychowicz and Jacek Sierpiński to name only the few.
It's time for Polish drones!
What exactly is Warmate?
Polish loitering munition system WARMATE is one of the best systems out there to destroy enemy's tanks, command centers and ammunition depots. It's an innovative unmanned product with a lightweight construction manufactured by WB Group.
It is capable of carrying out various missions and it has been used for many years not only by Polish but also Ukrainian army.
WARMATE is an alternative to anti-tank guided missiles (ATGM). It can operate in a much bigger radius which allows it to detect and observe a target in relatively big time lapse (an airborne platform flight takes 70 minutes). WARMATE airborne platform, when in attack mode, is a single-use weapon. When in surveillance mode it can be used multiple times.
Polish drones have been present in the battlefield since the beginning of Russian invasion and they have played an important role in Ukrainian defense. What proves its importance is that both sides are very cautious about revealing any information which would uncover their full capabilities. It would be nice to see Polish drones destroying Russian columns of tanks, but war prefers silence.
Why do we do this?
Beside our willingness to support Ukraine in fighting Russian aggression with effective weapons, we are also passionate about the Polish defense system. By buying Polish drones not only we provide Ukraine with the best possible weapons but also promote the Polish military product. All the funds collected will remain in Poland and, one way or another, come back to our army and make it stronger.
Organizers: who are we?
We come from different worlds but all have two things in common: resistance against Russian invasion and passion for the Polish military.
Bartłomiej Kucharski: journalist, defense systems analyst, agricultor.
Jarosław Sterkowicz: Cracow-based, DJ, writer, entrepreneur.
Mateusz Kaczyński: freelancer, copywriter and PR expert. Based in Białystok, in the mountains as often as possible.
We all support any kind of help towards Ukraine and its citizens. We believe that together we can do more.