Lehman Center for the Performing Arts Present The Polish Wieniawski Philharmonic Orchestra In their 2022 US Tour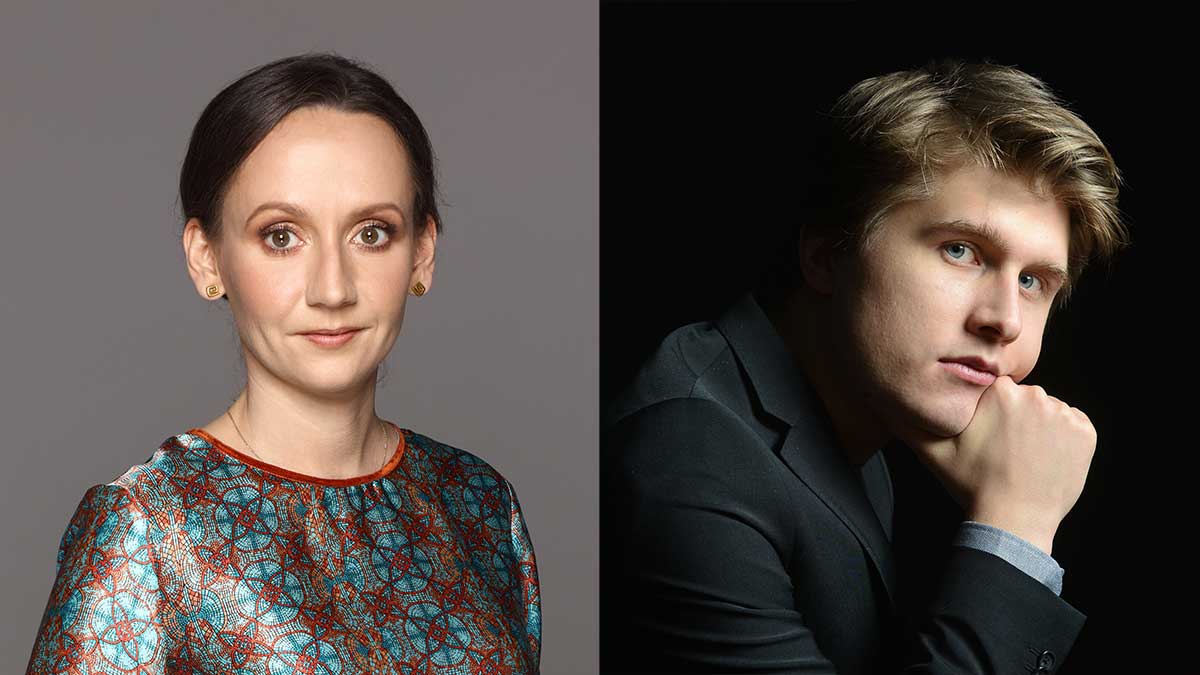 Agata Szymczewska - a Polish violinist and alumna of the Academy of Music in Poznań and the Hochschule für Musik, Theater und Medien Hannover, where she studied under professors Bartosz Bryła and Krzysztof Węgrzyn, respectively. In 2006 she won the 13th Henryk Wieniawski Violin Competition in Poznań. Tomasz Ritter - pianist who won the 1st International Chopin Competition on Period Instruments. He studied at the Moscow State Tchaikovsky Conservatory under Mikhail Voskresensky (piano), Marya Uspenskaya (harpsichord), and Alexei Lubimov (period piano). Foto: T. Zydatiss
On Sunday, February 13th, 2022 at 4:00pm Lehman Center for the Performing Arts presents the Polish Wieniawski Philharmonic Orchestra in their 2022 United States Tour! As part of their International Music series, Lehman Center aims to bring the astounding work of this Philharmonic to the Polish community right here in New York City.
The Polish Wieniawski Philharmonic Orchestra was founded in December 1944. Its beginnings go back to numerous chamber and solo concerts given by musicians who established ties within Poland after World War II. The repertoire and artistic considerations, as well as the joy of making music together, led to a premiere chamber music concert, held on February 10, 1945 in the hall of the Music Society. Now, almost exactly 77 years since their premiere, they will showcase a beautiful program on the Lehman Center stage.
The Polish Wieniawski Philharmonic is under the artistic direction of its principal conductor Wojciech Rodek. Since 1944 until today, The Polish Wieniawski Philharmonic has attracted a glittering list of prominent conductors, such as Krzysztof Penderecki, Antoni Wit, Kazimierz Kord, Philippe Herreweghe, and many others. They have also featured soloists: Sviatoslav Richter, David Oistrakh, Konstanty Andrzej Kulka, Wanda Wiłkomirska, Nigel Kennedy, Eugen Indjic, Rafał Blechacz, Kevin Kenner, Ingolf Wunder, Yulianna Avdeeva, Krzysztof Jakowicz, as well as Tomasz Ritter who is the 1st Prize winner of the 1st International Chopin Competition on Period Instruments in Warsaw.
Their program this year will include:
Beethoven, Overture to Egmont
Chopin, Piano Concerto no 2
Beethoven, Symphony no 5
Lehman Center for the Performing Arts
is located on the campus of CUNY Lehman College at 250 Bedford Park Boulevard West, Bronx, NY 10468
Tickets for the Polish Wieniawski Philharmonic Orchestra on Sunday, February 13th, 2022 at 4:00pm ($45, $35, $30, $25) are on sale now online at
or over the phone during business hours (10am-5pm on weekdays) at (718) 960-8833 (para Español: (718) 960-8835). The Concert Hall is accessible by transit on the 4 and D train to Bedford Park Blvd. and by car on the Saw Mill River Parkway and Major Deegan Expressway.
Lehman Center for the Performing Arts, Inc. is supported, in part, with public funds through the SVOG Grant by the U.S. Small Business Administration implemented by Senator Charles Schumer, and from the New York City Department of Cultural Affairs in partnership with the New York City Council. The 2022 Season is also made possible through the sponsorships by The New York City Cultural Affairs, New York State Council on the Arts, Spring Bank, Con Edison, and the Friends of Lehman Center.
Eva Bornstein
Executive Director

CONCERT SPONSORS:
Polish & Slavic Federal Credit Union - www.psfcu.com
Polish Daily News - www.dziennikpolonijny.com
Concert Halls I Banquet Halls, Caterers I Party Rentals
250 Bedford Park Blvd West
Bronx
, NY
tel:
Click phone# to call
718-960-8833
and tell them you found their ad in Polish Pages
SPONSORED ARTICLE
For the most up-to-date information, please contact the company directly.
The photos contained in the article serve only as an illustration of the article.
Other news: ARTS, CULTURE, ENTERTAINMENT
SEE MORE