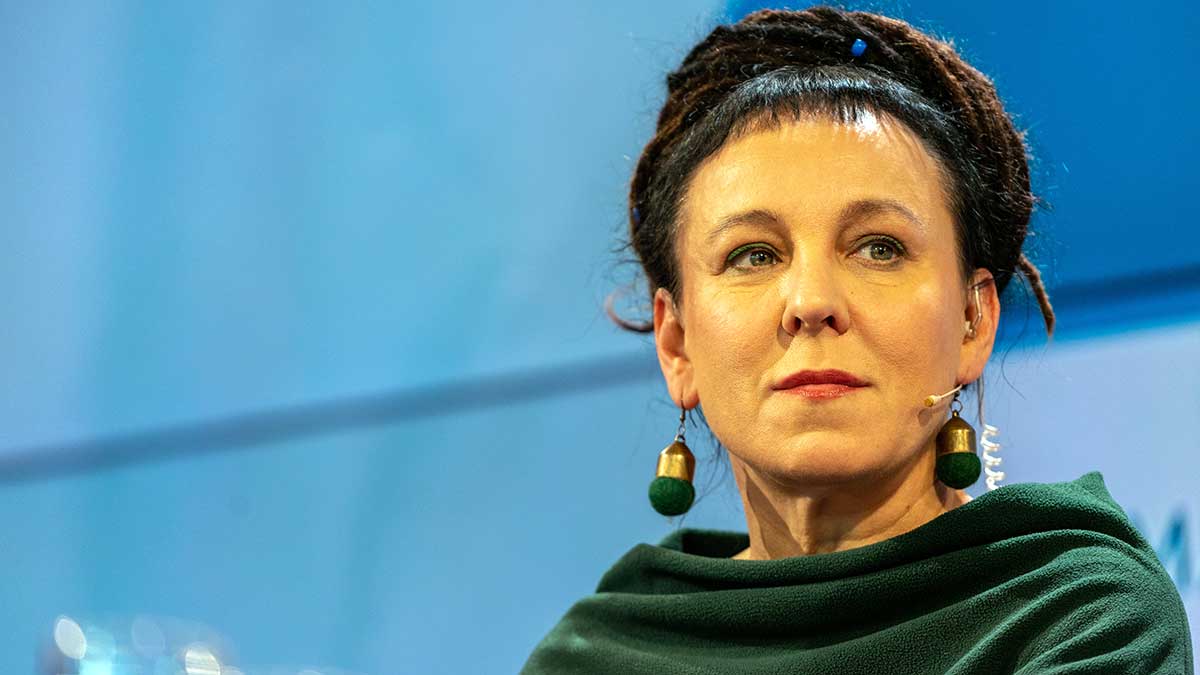 Olga Tokarczuk, author, Nobel Prize Winner in Literature 2019, at 71st Frankfurt Book Fair / Buchmesse Frankfurt Frankfurt, Germany. Foto: Markus Wissmann
Olga Tokarczuk is Poland's most recent Nobel laureate in Literature, receiving the 2018 award in 2019, after the prize had been suspended for a year. Her novels challenge common genre categories, but have been compared to Magic Realism, positing intersections of the divine or supernatural with history and everyday life, and featuring narrative figures who occupy the space between these two worlds. Witkacy called the novel a "sack" (worek) that could absorb every other genre, and Tokarczuk fully employs this potential, experimenting with elements of the realist novel, epistolary novel, picaresque, crime thriller, travel narrative, parable, fable, reportage, historical novel, philosophical essay, verse, encyclopedia, and other forms to create a truly unique literary voice.
Tokarczuk does not talk so much about her own biography, preferring that her writing speak for itself, but one of the most revealing essays she's written about herself and her background is included on the Nobel website, linked in the bibliography below. She was born in 1962 in Sulechów, Poland, a child of teachers who were part of the Folk School movement and then later taught in a conventional school. She studied clinical psychology at the University of Warsaw before thinking of herself as a full-time writer. Today she divides her time between Wrocław and the Kłodzko Valley in Southwestern Poland. She is an outspoken feminist and animal rights advocate, and supporter of the EU, and among her non-fiction essays, she wrote the introduction to the Polish translation of Judith Butler's Gender Trouble. She has used part of her Nobel Prize winnings to establish the Olga Tokarczuk Foundation, based in Wrocław, to support the work of writers and translators, and she has established the Ex-centrum Academic Research Centre at the University of Wrocław to create an academic space for the examination of unconventional points of view that do not fit precisely in established disciplines.
In this episode we speak with Tokarczuk's two English-language translators, Antonia Lloyd-Jones and Jennifer Croft, about what it is like to work with Olga Tokarczuk and about some of the challenges and rewards involved in translating her work. We talk about Tokarczuk's idea of the "tender narrator," who sees the world from a different plane than the first- and third-person narrators that we usually associate with prose fiction. The discussion focuses on their recently published translations of Tokarczuk's novels, her "eco-thriller," Drive your Plow through the Bones of the Dead and Tokarczuk's magnum opus, The Books of Jacob about eighteenth-century Jewish messianic leader, Jacob Frank. Finally, these two successful and productive translators discuss their upcoming projects and where they will be giving workshops and conducting mentorships in literary translation in the near future.
Selected works by Olga Tokarczuk (U.S. editions):
The Books of Jacob. Tr. Jennifer Croft. New York: Riverhead Books, 2022.
"Contributor: Olga Tokarczuk." Words Without Borders (website).
Drive your Plow over the Bones of the Dead. Tr. Antonia Lloyd-Jones. New York: Riverhead Books, 2019.
Flights. Tr. Jennifer Croft. New York: Riverhead Books, 2019.
House of Day, House of Night. Tr. Antonia Lloyd-Jones. Evanston, Ill.: Northwestern University Press, 2003.
The Lost Soul. Illustrated by Joanna Concejo. Tr. Antonia Lloyd-Jones. New York: Seven Stories Press, 2021.
"Olga Tokarczuk. Biographical." The Nobel Prize in Literature 2018 (website).
"The Tender Narrator." Nobel Lecture. The Nobel Prize in Literature 2018 (website).
Primeval and Other Times. Tr. Antonia Lloyd-Jones. Prague: Twisted Spoon Press, 2010.
Jennifer Croft
Jennifer Croft won the 2020 William Saroyan International Prize for Writing for her illustrated memoir Homesick and the 2018 Man Booker International Prize for her translation from Polish of Nobel laureate Olga Tokarczuk's Flights. She is also the author of Serpientes y escaleras and Notes on Postcards and the translator of Federico Falco's A Perfect Cemetery, Romina Paula's August, Pedro Mairal's The Woman from Uruguay, and Olga Tokarczuk's The Books of Jacob. She holds a PhD from Northwestern University and an MFA from the University of Iowa and is currently Visiting Assistant Professor in Creative Writing at the University of Arkansas. Image: photo by Nathan Jeffers.
Antonia Lloyd-Jones
Antonia Lloyd-Jones has translated works by several of Poland's leading contemporary novelists and reportage authors, as well as crime fiction, screenplays, poetry and children's books. Her translation of Drive Your Plow Over the Bones of the Dead by Olga Tokarczuk was shortlisted for the 2019 Man Booker International prize. In 2018 she was awarded the Transatlantyk Prize for the best promoter of Polish literature abroad. She is a regular mentor for the Emerging Translators Mentorship Program, and a former co-chair of the UK Translators Association.
Other news: ARTS, CULTURE, ENTERTAINMENT
SEE MORE