The Kosciuszko Foundation in NYC Reopens for Live Events with the Exhibition!
August 27, 2021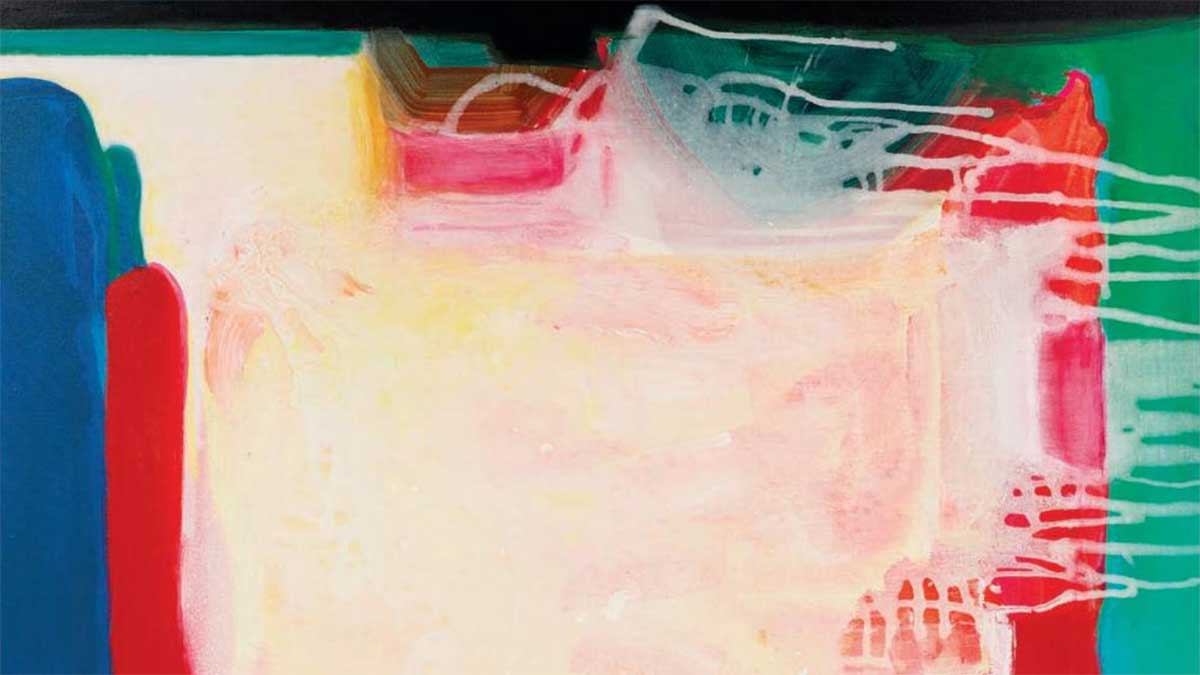 After the many months of a shutdown, mired in the pandemic, the Kosciuszko Foundation reopens for live events! Join us on Wednesday, Sept. 8, 2021, 6-9 PM ET for the opening of the joint exhibition of paintings by Sandi Slone and Joanna Borkowska, curated by Lilly Wei.
The Kosciuszko Foundation: 15 E 65th St., New York, NY 10065
Proof of vaccination is required to enter.
The exhibition will be on view from Thursday, September 9 to Friday, October 8, 2021; Mon. to Fri. 10 AM–5 PM; Sat., Sept. 11, 12–5 PM. See the Exhibition Catalog HERE
Artists of different generations, backgrounds, and aesthetic sensibilities, they each delve into the richness and power of color and poured paint, their works affirming abstraction's continuing, renewable, miraculous vitality.
In her curatorial essay, Lilly Wei writes:
Natural-born, fearless colorists, both Slone's and Borkowska's paintings tilt toward a full-spectrum palette. Reveling in the nature of the medium, in its materiality, its glamour, sensuousness, versatility, and infinite mutability, they invite their viewers to do the same: to plunge themselves optically into painted space/time, venturing into perceptual realms of matter and voids while constructing and navigating shifting fields of force. You might think of them as "painternauts." . . .
Both artists are on a journey, like the explorers they are, each seeking to translate the ineffable into the material and then back again, each in their own way. These expansive, numinous paintings are the results of their ongoing search, like messages in a bottle, tossed into the ebb and flow of the universe and retrieved from it.
Sandi Slone (b. Boston, Massachusetts) is a New York-based abstract artist who has taught at the School of the Museum of Fine Arts at Tufts University, Boston, among other academic appointments. Slone has exhibited widely with 40 solo shows internationally, and her work has been acquired by numerous museums, art institutions, and private collections, including Museum of Contemporary Art MACBA, Barcelona; Museum of Modern Art, New York; Museum of Fine Arts, Boston; Fitzwilliam Museum, Cambridge; and the Hirshhorn Museum, Washington, DC. She is a founding board member of Art Omi International and The Fields Sculpture Park in Ghent, New York. Among other honors, she is the recipient of a Ford Foundation fellowship.
Joanna Borkowska (b. Koszalin, Poland) is a Warsaw- and New York-based abstract painter. She holds a doctorate in political science from the Jagiellonian University in Krakow and taught there until 2007. She had her debut exhibition at the National Museum in Szczecin in 2009 and has exhibited in Poland and internationally since then. Her work is held in numerous institutional and private collections. Borkowska has been an artist in residence at Matadero Madrid, Art Omi, and Residency Unlimited.
Lilly Wei (b. Chengdu, China) is a New York-based independent curator, art critic, writer, and journalist whose area of interest is global contemporary art with an emphasis on emerging art and artists. Wei's writings have appeared in dozens of publications worldwide, and she has curated exhibitions in the United States, Europe, and Asia.