The KF Wieniawski Violin Competition Goes ONLINE. Application Deadline July 21
June 04, 2020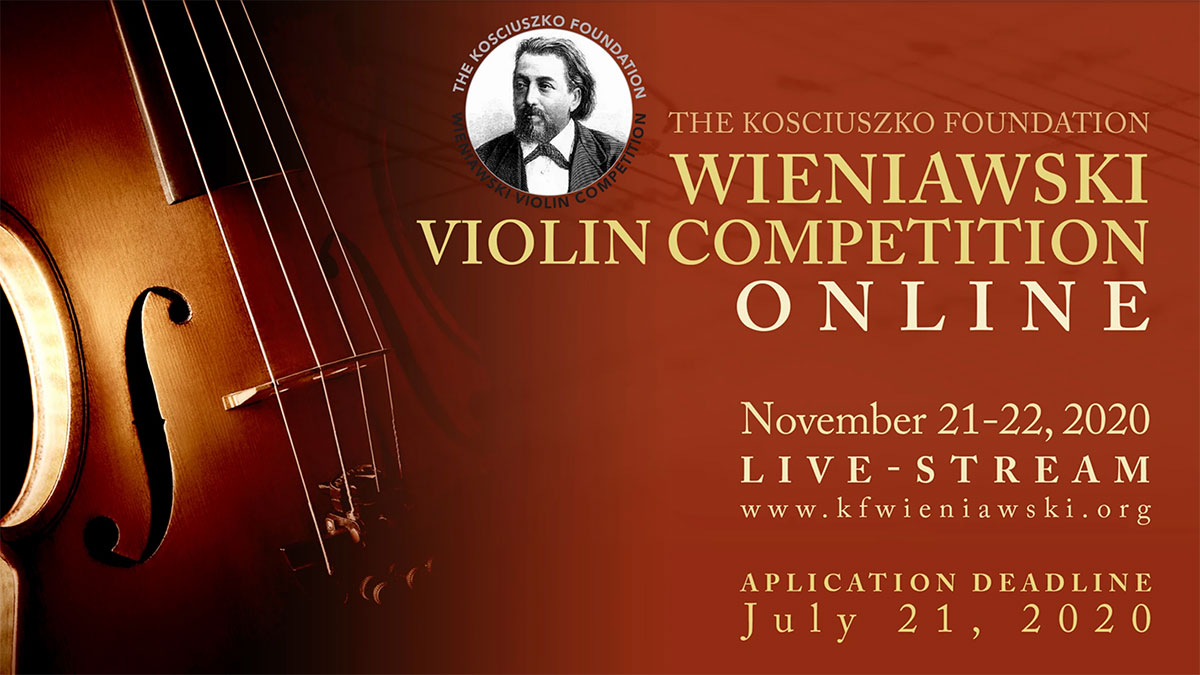 Due to the unpredictable trajectory of COVID-19 and its impact on organizing public events, the Kosciuszko Foundation has decided to hold its Wieniawski Violin Competition online.
Each of the three stages of the Competition will be live-streamed on the official KF YouTube channel.
The Competition will be held based on the following schedule:
First Stage: Nov. 21 (Saturday) - 11 AM – 2 PM & 4 -7 PM EDT
Second Stage: Nov. 22 (Sunday) - 10 AM – 2 PM EDT
Final Stage: Nov. 22 (Sunday) - 5 – 6:30 PM EDT
The Competition is open to violinists of all nationalities who are striving to establish distinguished careers, and who are 16 to 26 years of age as of November 21, 2020.
A YouTube video recording containing J.S. Bach two contrasting movements, and one virtuoso piece of candidate's choice needs to be submitted along with the application form and other relevant documents. Please refer to the Competition website: www.kfwieniawski.org for complete information, updates and the application form.
Application deadline: July 21, 2020
Acceptance notification: by September 21, 2020
Over $8,000 in monetary prizes along with a special award of a performance with "The Jackson Symphony Orchestra" under the direction of Music Director, Maestro Matthew Aubin are offered for the Competition winners.
The Kosciuszko Foundation Wieniawski Violin Competition was established in 1969 to encourage young violinists to study the repertoire of Polish composers and to honor Poland's legendary violinist and composer Henryk Wieniawski (1835-1880).
We hope to host you in the Foundation's first online competition and look forward to seeing all the musical talent!