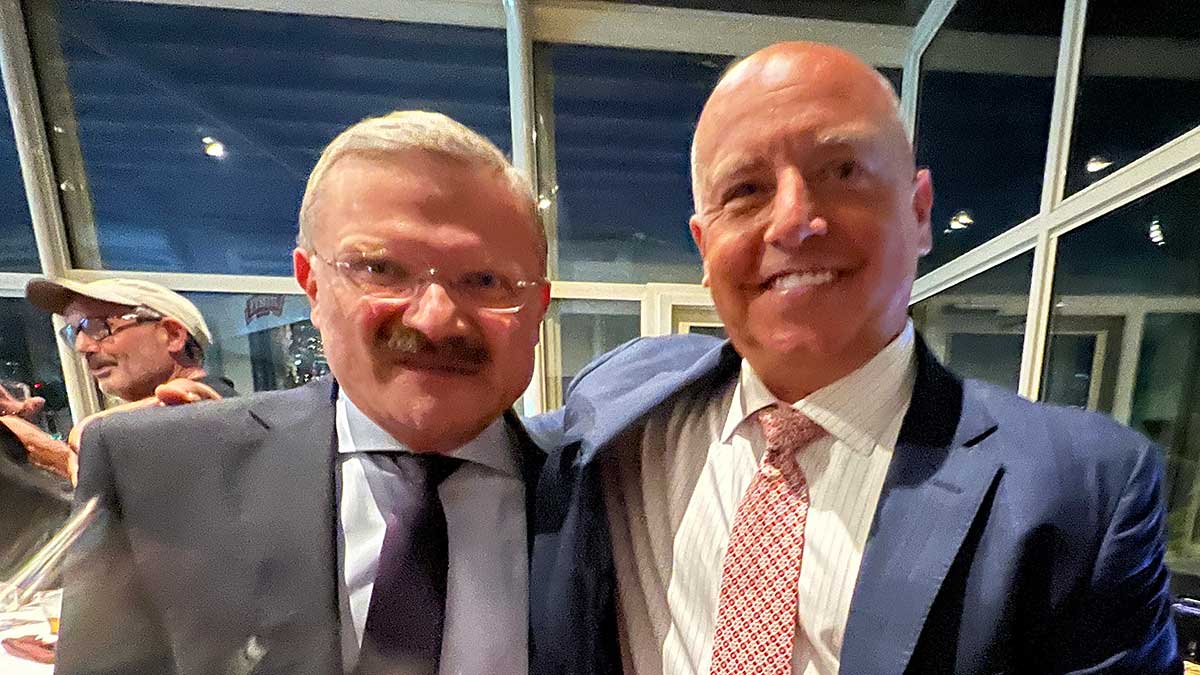 Dr. Dariusz Nasiek, MD and James Lynch, Esq.
On Thursday, August 25th, Dr. Nasiek's monthly networking dinner and seminar had a full house. Dr. Dariusz Nasiek from Allied Neurology Interventional Pain Practice, PC hosted a networking event where many attorneys, physicians, chiropractors, and medical professionals gathered. The seminar was held at the Royal Warsaw Restaurant in Elmwood Park, NJ.
Attendees were invited by Dr. Dariusz Nasiek, MD - pain management specialist. Dr. Nasiek was honored to present the President of the New Jersey Association for Justice (NJAJ), Mr. James Lynch, Esq. as a speaker on behalf of the NJAJ & his law firm - Lynch Law.
On June 9, 2022, Mr. James Lynch was installed as the President of NJAJ, which has more than 2,700 attorney members across the state. Founded in the late 1940s and incorporated in 1976, NJAJ is a statewide association of attorneys in private practice and public service, paralegals, law clerks, law students and law school graduates. Dedicated to protecting New Jersey's families by working to preserve and strengthen the laws for safer products and workplaces, a cleaner environment and quality health care, NJAJ's mission is to educate, train and energize lawyers in all fields of advocacy who speak for the rights of those injured, for the rights of those damaged in person or property, for the rights of the neglected, for the rights of the victims of discrimination and for those whose civil rights have been trampled upon, for those who seek to prove their innocence, for the marginalized; to advocate tirelessly for the fair administration of justice and for the constitutional right to a trial by jury; and to promote the administration of equal justice for all, for the public good.
Mr. Jim Lynch, Esq is a well-known and respected trial attorney with an excellent track record of success at trial. In June, 2022, Mr. Lynch obtained a jury verdict for $17,533,000.00 for a seriously injured client, likely one the of largest verdicts in 2022. Jim Lynch has been named to Super Lawyer's list published in New Jersey Magazine every year since 2008 and was again named in 2022; named to the Super Lawyer's Top 100 List in 2022. Mr. Lynch is Certified by the Supreme Court of New Jersey as a Civil Trial Attorney, and is often asked to speak at seminars teaching other attorneys issues regarding trial practice and advocacy. In 2021 and 2022, Jim was asked to testify in the State House in Trenton before several Senate and Assembly committees concerning various pending legislation, including the Insurance Fair Conduct Act.
Mr. Lynch advises his attendees about the current state of affairs in respect of the new legislation in the PIP and the adoption of the minimum liability increased to $25k.
Everyone had a wonderful evening. Aside from the educational presentations, the medical and legal community alike enjoyed delicious food, plenty of networking, and the space to discuss medical legal issues with peers.
We would like to thank James Lynch for being our very special guest speaker. We would also like to thank Hudson Regional Hospital for sponsoring this very successful event. The next meeting will be held on Thursday September 29th at 7PM at the same location, The Royal Warsaw.
Pain Management
185 Grand Avenue
Englewood
, NJ
tel:
Click phone# to call
973-773-7730
and tell them you found their ad in Polish Pages
SPONSORED ARTICLE
For the most up-to-date information, please contact the company directly.
The photos contained in the article serve only as an illustration of the article.